ref: cVm Sep 16-Oct 5 2016 GALLERY DIFFERENT Rebecca Fontaine-Wolf - Open a 'pdf' of this press release - return to Galleries PR Index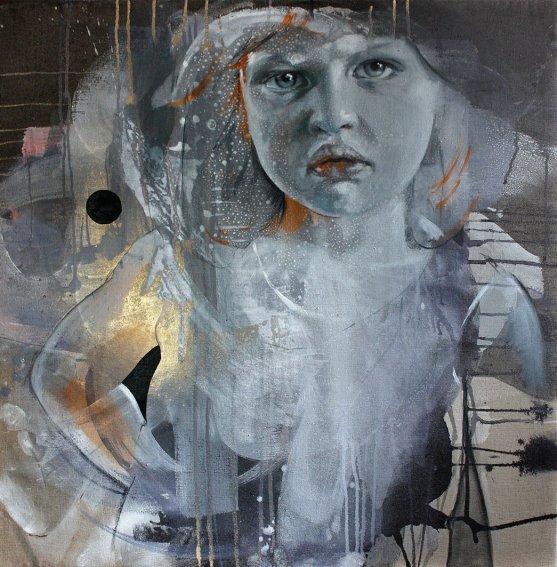 PRESS RELEASE – FOR IMMEDIATE RELEASE
'Der Tod und das Mädchen / Death and the Maiden'
Major London Solo Exhibition of new paintings
by
REBECCA FONTAINE-WOLF
Exhibition Dates 16th September 2016 – 5th October 2016
At Gallery DIFFERENT, 14 Percy Street, Fitzrovia, London W1T 1DR
www.gallerydifferent.co.uk / https://www.facebook.com/GalleryDIFFERENT/ https://twitter.com/g_different
Rebecca Fontaine-Wolf's new series explores the nature of the link between young womanhood, creation
and mortality. Alluding to her own German heritage and drawing on the vanitas motif of the young
woman and death, she is examining a theme that artists from the early renaissance through to Klimt and
Schiele have done before her.
This body of work continues her exploration of female identity through portraiture, in which she is able to
hold both figurative and abstract elements in tension. Drawing on the vanitas motif, in her paintings the
young woman becomes a symbol for the fleeting nature of human life, counterbalanced by her fertility
and creative potential. This in turn becomes an analogy for the act of making art where activity and
passivity, chaos and control are all vital components, the artist herself recognising that as much as she
must consciously make a mark or create an image, she also must accept moments of disorder, allowing
marks to be destroyed in order that something new be created.
The exhibition also features prints created from the detritus of the studio – where the original source
photo (Rebecca takes her own photographs for source material) which bears witness to the painting
activity that has surrounded it, rather than be discarded on the studio floor has been rescued and is
reborn.
The exhibition will open with a private view on Thursday 15th September. All work is available to
purchase.
/Ends/
Notes to Editors:
1. Rebecca Fontaine-Wolf MA VPSWA is a full time professional artist. She holds a BA and MFA in Fine
Art. Her work is held in many good collections, and she has been the recipient of a number of awards
including the Winsor and Newton Young Artists Award, The Catherine Pettigas Award, the Chelsea Arts
Club Trust Award, and the Editors Choice Award (SWA). She is a vice president to the Society of Women
Artists and has exhibited widely in both group and solo exhibitions. Her career and work have been the
subject of a number of press articles and in 2013 she was tipped in the Guardian article 'the art of
alternative investment' as an artist in whom to invest.
Tod und das Mädchen/Death and the Maiden is the largest solo exhibition of her career to date.
2. Gallery DIFFERENT is a contemporary fine art Gallery in the vibrant Gallery District of Fitzrovia. The
gallery has a dynamic schedule of exhibitions featuring British and International contemporary artists
which includes global names and exciting emerging talent. The gallery specialises in the representation of
artwork that exhibits a discernible concept and is of exceptional quality.
3. The Press Preview will be on Thursday 15th September prior to the Private View the same night.
For Futher information, interviews, and high-resolution images or to register to attend the press preview
or for interviews please contact:
Karina Phillips
Gallery Different, 14 Percy Street, Fitzrovia, London W1T 1DR
karina@gallerydifferent.co.uk
www.gallerydifferent.co.uk
T: 0207 637 3775 M: 07940 525055
Opening Hours:
Tuesday – Friday 10.30 – 6
Thursday 10.30 – 8
Saturday 11 – 5
IMAGES IN PRESS RELEASE:
Out of the Mouth of Babes, 90 x 90 cm, oil ink and acrylic on canvas.
Admission to the Exhibition is free.