ref: jKm Mar 6-16 2016 STUDIO SIENKO GALLERY Catherine Shakespeare Lane - Open a 'pdf' of this press release - return to Galleries PR Index



CATHERINE SHAKESPEARE LANE

AT STUDIO SIENKO GALLERY

57a Lant Street London SE1 1QN

Studio Sienko Gallery has the rare pleasure of presenting an exhibition

by Catherine Shakespeare Lane running from the 6th to the 16th of March

2016.

This very private and intense artist explores the streets of London and

beyond with a scientific approach to objects and images discarded by

society, placing them in meaningful and eye opening assemblages.

Her sensitivity and intelligence makes us shrivel when realizing the

content of the piece NO LAUGHING MATTER. We see gas cartridges for

soda siphons lovingly placed in a pink lined box. Same size, some are

grey, some are silver and sometimes they kill the user.

Our walls, built of many ages of London warehouse bricks, are a fitting

backdrop for this show. We have not removed any of the character of

this Victorian wood workshop since it became the gallery in 1993.

Catherine's exhibition is the 69th in our premises.

Studio Sienko is open during office hours.

If you wish to meet Catherine at the gallery, please email her on:

themonsellstores@gmail.com

Welcome - Olga Sienko, gallery curator.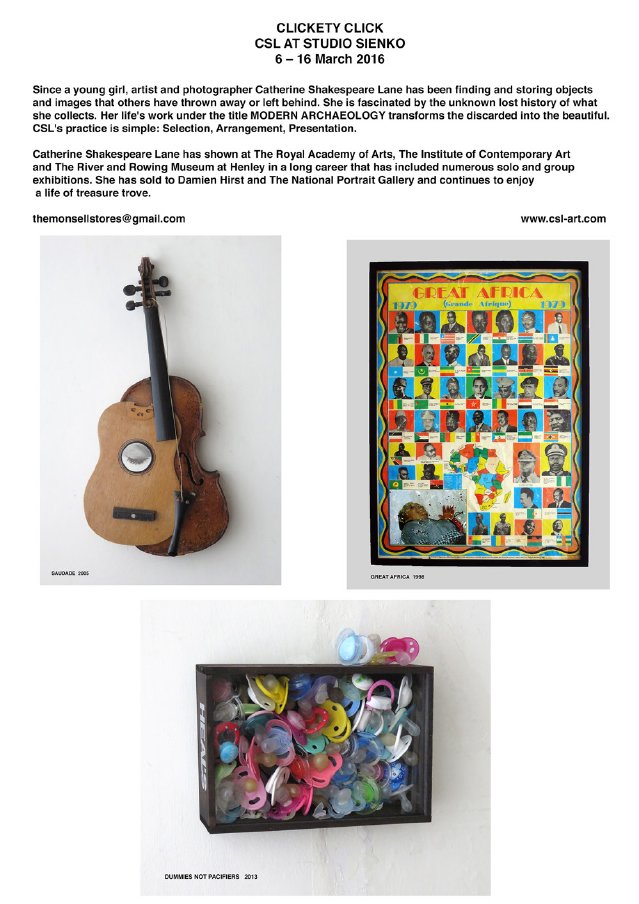 CATHERINE SHAKESPEARE LANE
http://www.csl-art.com
1950 Born 1st March, London
1969-1972 Hornsey College of Art – First Class Diploma in Art
& Design (BA equivalent)
1971 Exhibited in Third International Print Biennale,
Bradford City Art Gallery
Exhibited in The Young Sculptors Exhibition,
Royal Academy of Arts
1984 Appeared wearing The Jacket on Radio 4's Midweek with Carl
Davis, Yehudi Menuhin and Peggy Mount
1988 Solo exhibition – Fire Pictures – ICA London
1992-1994 Solo touring exhibition – Rubbish is Beautiful,
started at Southampton University
1998 Exhibited Homage triptych – Colony Room 50th
anniversary exhibition – A22 Gallery, London
1999 Exhibited with David Chipperfield in The Building
of a Museum – River & Rowing Museum, Henley
2001 Homage Too triptych sold to Damien Hirst
2002 Portrait of Lord Young of Dartington sold to the
National Portrait Gallery
2003 Solo exhibition – The Jacket for Contemporary Art
Society – The Economist Building, London
2005 Exhibited No End triptych in Off The Wall – Spitals Gallery, London
2006/07 Exhibited Homage Too triptych – The Colony Room
2008 Time Out entry "Home is where the art is", rolling exhibition and
showcase starts at The Monsell Stores
2009 Exhibited in The Dog Show – The Dollar Street gallery,
Cirencester
2010 Sweatshop – Pop Up studio/gallery – 34/36 Monsell Road, London
2011 Exhibited in Half Rabbit – Platform China Gallery, Beijing
2012 Exhibited in Full Rabbit – Shoreditch Town Hall, London
2013 Exhibited in Making Art – Gallery Petit, London
Solo Exhibition – Modern Archaeology – The French House,
London
2014 Exhibited in Symbolism in Abstraction – Studio Sienko Gallery,
London
Solo Exhibition – Abstracts from the Build – PARKtheatre, London
Solo Exhibition – Ahoy Matey – South Lookout Tower, Aldeburgh,
Suffolk
2015 Exhibited in Swimmers' Art – The Orangery, Kenwood House,
London
The Monsell Stores, 43 Monsell Road, London N4 2EF 020 7226 7694
themonsellstores@gmail.com