ref: gVq May 6-Jun 5 2012 SCULPT GALLERY Woman Past & Present - Open a 'pdf' of this press release - return to Galleries PR Index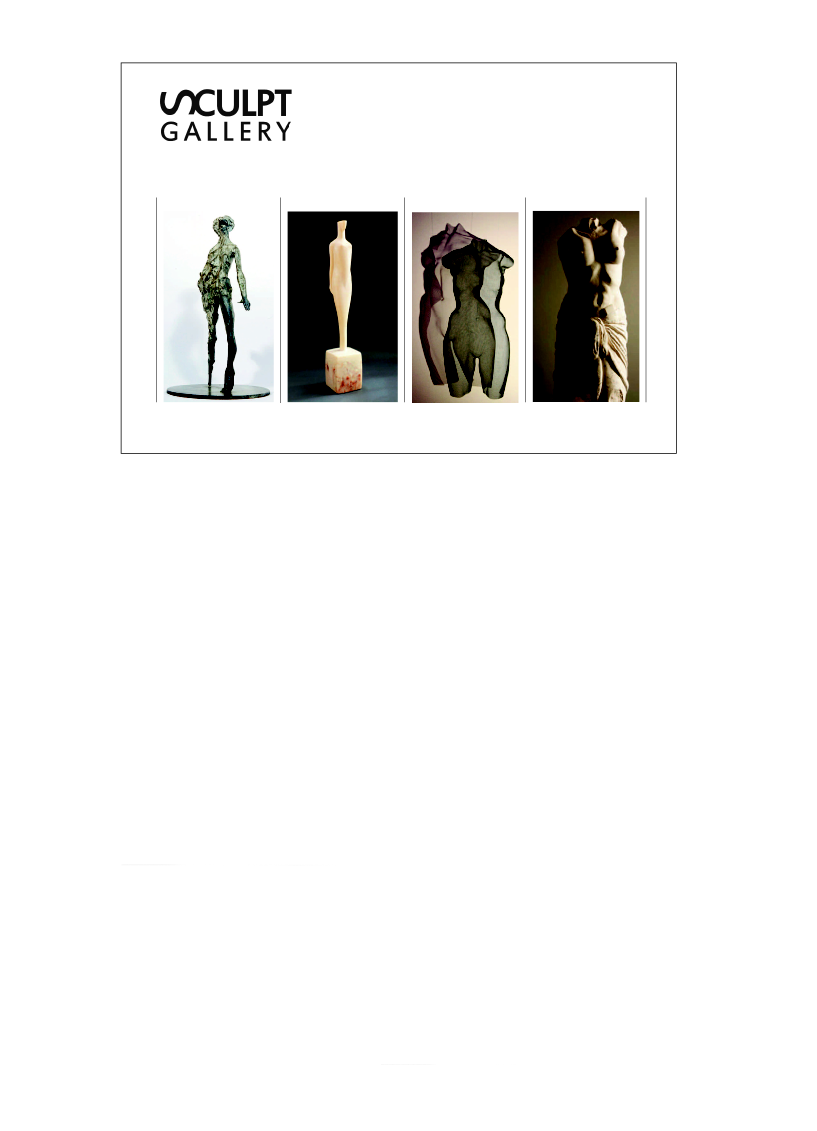 'WOMAN PAST & PRESENT': 6 May - 5 June 2012
Contemporary sculpture inspired by womankind from ancient cultures, recent past and present day
MAURICE BLIK
ROLAND PICHÉ
DAVID BEGBIE
BILLIE BOND
A group exhibition including sculptural ceramics by Hilary Simms
www.sculptgallery.com
E:info@sculptgallery.com
Twitter@sculptgalleryuk
Sculpt Gallery's 2nd Exhibition since its opening in February this year, is
Woman Past & Present', which runs until 5 June.
The exhibition focuses on sculpture inspired by the female form, reflecting
influences from ancient cultures as well as present day socio-political issues
affecting women today. It showcases a rich and diverse selection of work,
including sculpture by artists of international recognition as well as artists in
the East Anglia region. Featured artists are:
Maurice Blik ATC PPRBS. FRSA - Sculpt Gallery's principal and resident
artist;David Begbie ARBS; Billie Bond; Roland Piche ARCA FRBS; and
Hilary Simms.
The exhibition offers something for everyone with prices ranging from £165 to
£20,000. Viewings are by appointment.
FOR FURTHER INFORMATION AND IMAGES PLEASE CONTACT:
Debra Blik
debrablik@sculptgallery.com
M: 07980768616
Follow us: Twitter@sculptgalleryuk
Note to Editors:Sculpt Gallery was launched in February 2012 and is dedicated to promoting the best of contempo-
rary British sculpture and fine art ceramics. The Gallery's principal and resident artist is Maurice Blik, with the Gallery
holding a permanent and comprehensive collection of his work. In addition, Sculpt has an exciting programme of
exhibitions throughout the year showcasing sculpture and ceramics by leading and up-coming artists. Our group
Summer Exhibition will take place from July 22 - 31 August.
For artists and details of this and other forthcoming exhibitions, please visit our website.
Sculpt Gallery, Priory Mews, Braxted Park Road, Gt Braxted, Essex CO5 0QB
T: 07980768616 E: info@sculptgallery.com www.sculptgallery.com