ref: c3q Sep 12-Oct 28 2012 JERWOOD SPACE Jerwood Drawing Prize 2012 - Open a 'pdf' of this press release - return to Galleries PR Index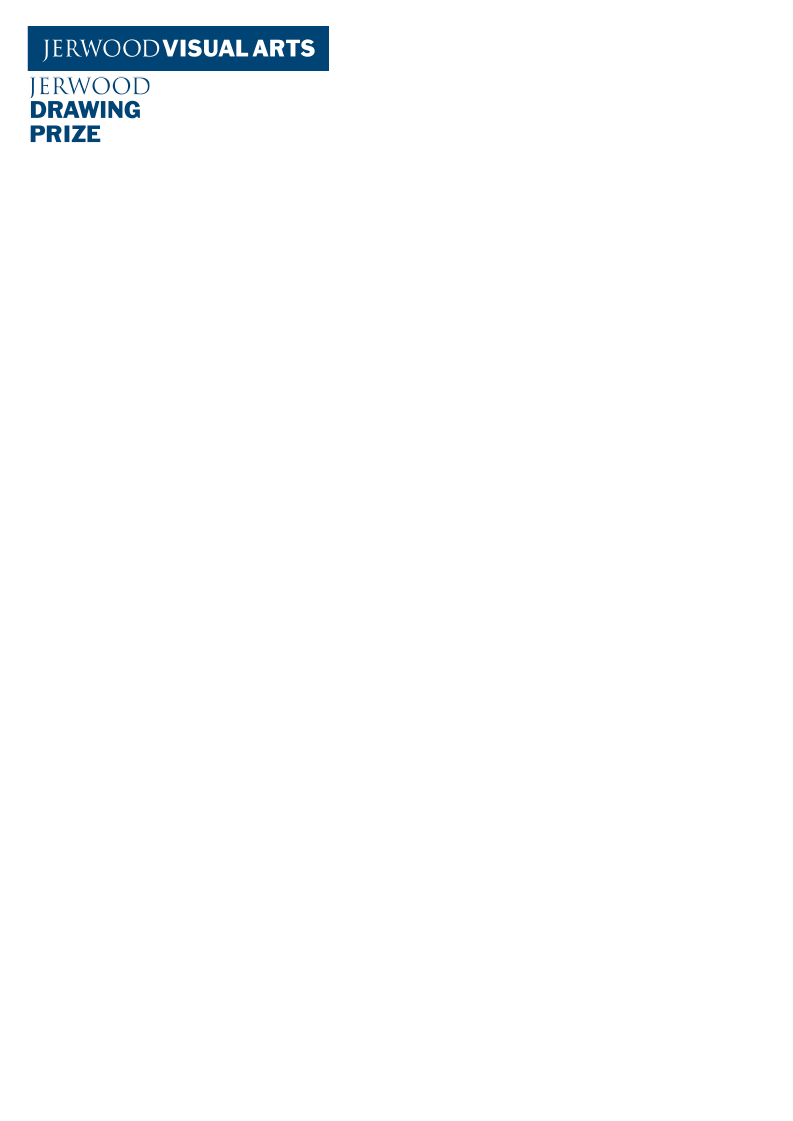 Press Release
Contact: Isabel Cooper
01372 462 190
isabel@parkerharris.co.uk
Jerwood Drawing Prize 2012
Celebrating the diversity, excellence and range of drawing in the UK
12 September – 28 October 2012
JVA at Jerwood Space, London
The Jerwood Drawing Prize 2012 is the largest and longest running annual open
exhibition for drawing in the UK. Judged by an independent panel of selectors; Stephen
Coppel, Curator of the Modern Collection, Department of Prints and Drawings at the
British Museum; Kate Macfarlane, Co-Director of Drawing Room, London; and Lisa
Milroy, Artist and Head of Graduate Painting, Slade School of Fine Art, UCL, the Prize
aims to explore and celebrate the diversity, excellence and range of current drawing
practice in the UK. As a response to the ever-growing popularity of the competition, and
the present financial landscape of the arts, Jerwood Visual Arts (JVA) and Drawing
Projects UK are delighted this year to announce an increase in the total prize fund,
from £11,000 to £17,000, a rise of over 50%.
From its beginning, the Jerwood Drawing Prize has championed the breadth of
contemporary drawing in the UK. The 2011 exhibition displayed diverse interpretations
of drawing and included video installation, collage and embroidery. The First Prize,
awarded to Gary Lawrence for his detailed ballpoint pen drawing, Homage to
Anonymous, 2011, acknowledges the traditional medium of draughtsmanship.
From a submission of almost 3,000 entries, the selectors have brought together an
exhibition of 77 works from 73 artists. The shortlist includes established artists as well
as relative newcomers and students fresh from art college. The selected works will be
exhibited at JVA at Jerwood Space, London from 12 September - 28 October
2012, and then tour to venues across the UK including the new Jerwood Gallery,
Hastings and mac, Birmingham.
The prizes, which will be awarded to the winning artists at a ceremony on Tuesday 11
September 2012, are a first prize of £8,000, second prize of £5,000 and two student
awards of £2,000 each.
The artists short-listed for the Jerwood Drawing Prize 2012 are:
Nadine Mahoney
Sarah Spackman
Stefan Gant
Pippa Gatty
Albert Geere
Karolina Glusiec
Margarita Gluzberg
Thomas Gosebruch
Beatrice Haines
Susie Hamilton
Tom Hammick
Jane Harris
Oona Hassim
Greg Hayman
Jefford Horrigan
Sam Mould
Kyounghee
Nengi Omuku
Simon Parish
Sarah Pettitt
Kasper Pincis
Kathy Prendergast
Carl Randall
Howard Read
Frances Richardson
Ishai Rimmer
Fiona Robinson
Katie Aggett
Judith Alder
Linda Antalova
Aglae Bassens
Meghana Bisineer
Matthew Burrows
Malina Busch
Jane Bustin
Elizabeth Butterworth
Heeseung Choi
Alexander Costello
Toni Davey
Jeffrey Dennis
Jane Dixon
Paul Eachus
Mark Evans
Marisa Futernick
Matteo Fuzzi
Richard Galloway
Jenny Steele
Maaike Anne Stevens
Rebecca Swindell
Eleanor Taylor
Shelley Theodore
Mathew Tom
Amikam Toren
Felicity Truscott
Andrew Vass
Julia Vogl
Sarah Kate Wilson
Ching Wong
Tanya Wood
William Wright
Aishan Yu
Joanne Hummel-Newell Daniela Sarigu
Abigail Hunt
Katy Shepherd
Robin Jones
Ruth Simons
Kerstin Kartscher
Simson & Volley
Min Kim
Eiko Soga
Rebecca Kunzi
Bada Song

- Ends -
For further details please contact Press Officer, Isabel Cooper, at Parker Harris: 01372
462109 or isabel@parkerharris.co.uk
Exhibition Information
Title:
Jerwood Drawing Prize 2012
Dates:
12 September – 28 October 2012
Address:
JVA at Jerwood Space, 171 Union St, SE1 0LN
Opening Times:
Mon - Fri 10am – 5pm, Sat & Sun 10am – 3pm
Admission:
Free
Nearest tube:
Southwark, London Bridge or Borough
Website:
www.jerwoodvisualarts.org
Twitter:
#JDP12 @JerwoodJVA
Jerwood Visual Arts will host a series of evening events to accompany the exhibition. Events are
free but must be booked in advance, for more information please check the Jerwood Visual Arts
website.
Notes to Editors
The Jerwood Drawing Prize is part of Jerwood Visual Arts and is run in partnership with
Drawing Projects UK.
Jerwood Visual Arts (JVA) is a contemporary gallery programme of awards, exhibitions and
events at Jerwood Space, London and on tour nationally. Jerwood Visual Arts supports and
showcases the work of talented emerging artists. It aims to make connections and provoke
conversations within and across visual arts disciplines. JVA is a major initiative of the Jerwood
Charitable Foundation. www.jerwoodvisualarts.org
The Jerwood Charitable Foundation is dedicated to imaginative and responsible revenue
funding of the arts, supporting artists to develop and grow at important stages in their careers.
The aim of their funding is to allow artists and arts organisations to thrive; to continue to develop
their skills, imagination and creativity with integrity. It works across art forms, from dance and
theatre to literature, music and the visual arts. www.jerwoodcharitablefoundation.org
Drawing Projects UK was established in 2009 by Professor Anita Taylor, Co-Founder of the
Jerwood Drawing Prize (originally Cheltenham Open Drawing Exhibition) and Director of the
National Art School, Sydney. Drawing Projects UK aims to develop, organise and promote projects
in drawing that contribute to and enhance knowledge and understanding of drawing in the UK.
Selectors Biographies
Stephen Coppel is Curator of the Modern Collection, Department of Prints and Drawings, British
Museum. He was appointed Assistant Keeper of the print collection in 1992 and became
responsible for the modern collection in 2004. Most recently, he has curated Picasso prints: The
Vollard Suite, on display at the British Museum from 3 May – 2 September 2012.
www.britishmuseum.org
Kate Macfarlane is a Curator and Co-Founder and Co-Director of Drawing Room, London, a non-
profit organisation that explores ideas around contemporary drawing and makes them visible in
the public domain. It provides a unique resource for the promotion of drawing, its practice, theory
and methodology.
www.drawingroom.org.uk
Lisa Milroy, Artist and Head of Graduate Painting, Slade School of Fine Art, UCL, was born in
Vancouver, Canada and graduated from Goldsmiths College in 1982. Known for her still life
painting, she also works with print, drawing and animation. In the last five years she has
exhibited in the UK, Switzerland, Germany, France, Italy, Japan, South Korea, China, USA and
Iceland, and her work is held in several significant public and private collections. She was elected
to the Royal Academy of Arts in 2006. www.lisamilroy.net