ref: c8r Oct 14-23 2011 PARALLAX AF Presented by Barlow Fine Art International contemporary art fair - Open a 'pdf' of this press release - return to Galleries PR Index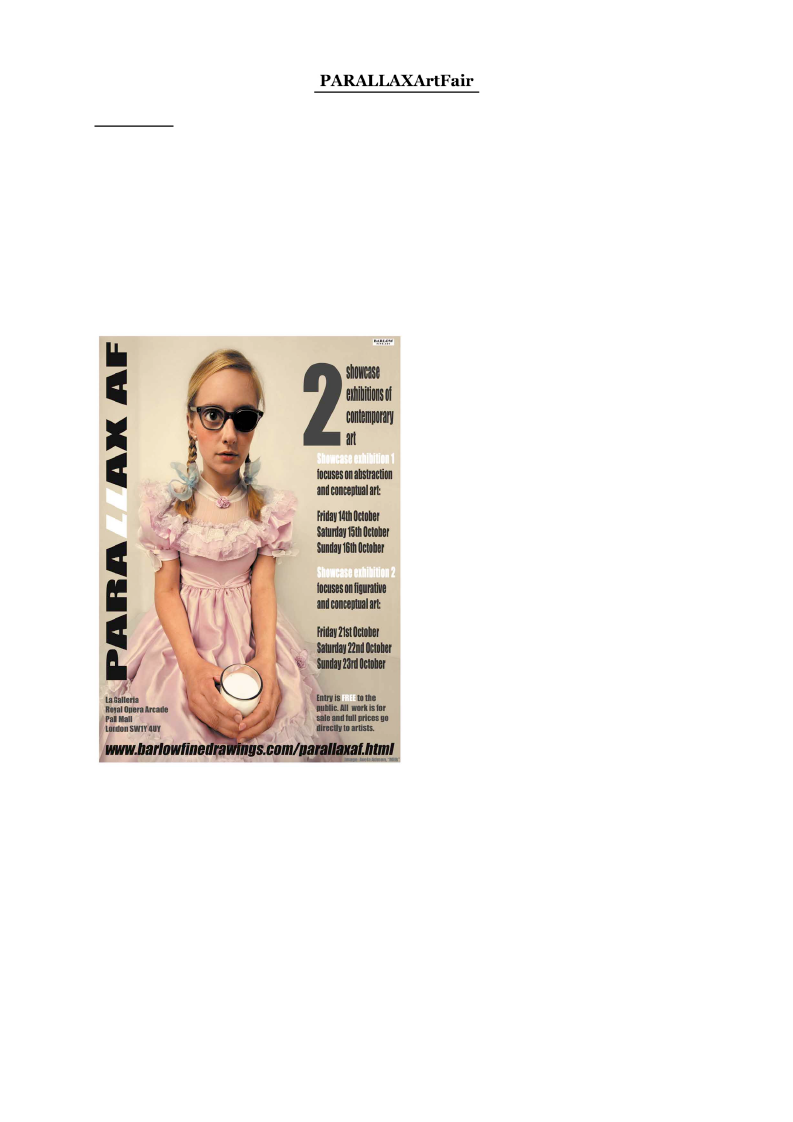 PRESS RELEASE: For immediate release.
Parallax AF showcases new artists from
India, Chile, Sudan, Israel and Lebanon
New International Contemporary Art Fair in London, Parallax AF, will Showcase New
Emerging Artists from Around the World
Artists from India, Chile, Sudan, Israel and Lebanon will exhibit alongside emerging artists from USA, UK, Europe and
Australia at Parallax AF, a new art fair that will take place at La Galleria, Royal Opera Arcade, Pall Mall, London (UK) from
14th 23rd October.
"This is the second theoretical fair that we have
developed," explained Dr Chris Barlow, art historian and
director at Barlow Fine Art. "I'm particularly pleased that
the new concept is attracting international artists from as
far as Australia, the Middle East and South America. The
quality of the work and ideas is always extremely high.
With the event taking place at about the same time as
Frieze Art Fair, London will be packed more than usual
with those interested in contemporary art and new ideas.
This time there will also be a lecture series, which is
something very close to my own heart. For Parallax AF is
designed not simply to ask the difficult questions about
how we curate, think about, and view contemporary art
today, with all the subsidiary questions that go along with
that, but to place them into the public domain so that
everyone can get involved in the debates too."
About Parallax AF
Parallax AF is the first art fair of its kind to use new
theories from art history in its approach. It showcases
established and emerging international contemporary
artists and is curated by a guest curator. It is a serious
platform for artists to present their work to national and
international dealers, art industry people, collectors,
critics and buyers without commission charges in an
exhibition format underpinned with critical theory. It
aims to provide a key service in helping artists promote
and sell their work, as well as providing a platform for
developing their careers and practice. It is loosely divided
into two exhibition showcases presenting abstraction/conceptual and figurative/conceptual art.
The second Parallax AF of this year takes place on Friday 14th October to Sunday 23rd October 2011 at La Galleria, Royal
Opera Arcade, Pall Mall and is "curated" by Dr Chris Barlow.
•
Parallax AF showcasing work from India, Chile, Sudan, Japan and Lebanon
•
Parallax AF is a new international art fair in London for emerging artists
•
In July and October this year, it takes place at La Galleria, Pall Mall, Royal Opera Arcade, London, UK
•
The first Parallax AF exhibitions for 2011 open from 14th – 23rd October 2011:
Abstract/conceptual show: 14th – 16th October (Friday Saturday 10am 6pm, Sunday 10am 5pm)
Figurative/conceptual show: 21st – 23rd October (Friday Saturday 10am 6pm, Sunday 10am 5pm)
This press release is available on the press section of the website: http://www.barlowfinedrawings.com/pressreleases.html
Further information is available on request. Please contact Ms Rebecca Marcus Monks for further information, images or to
interview the artists: rebecca [at] barlowfinedrawings.com.
END