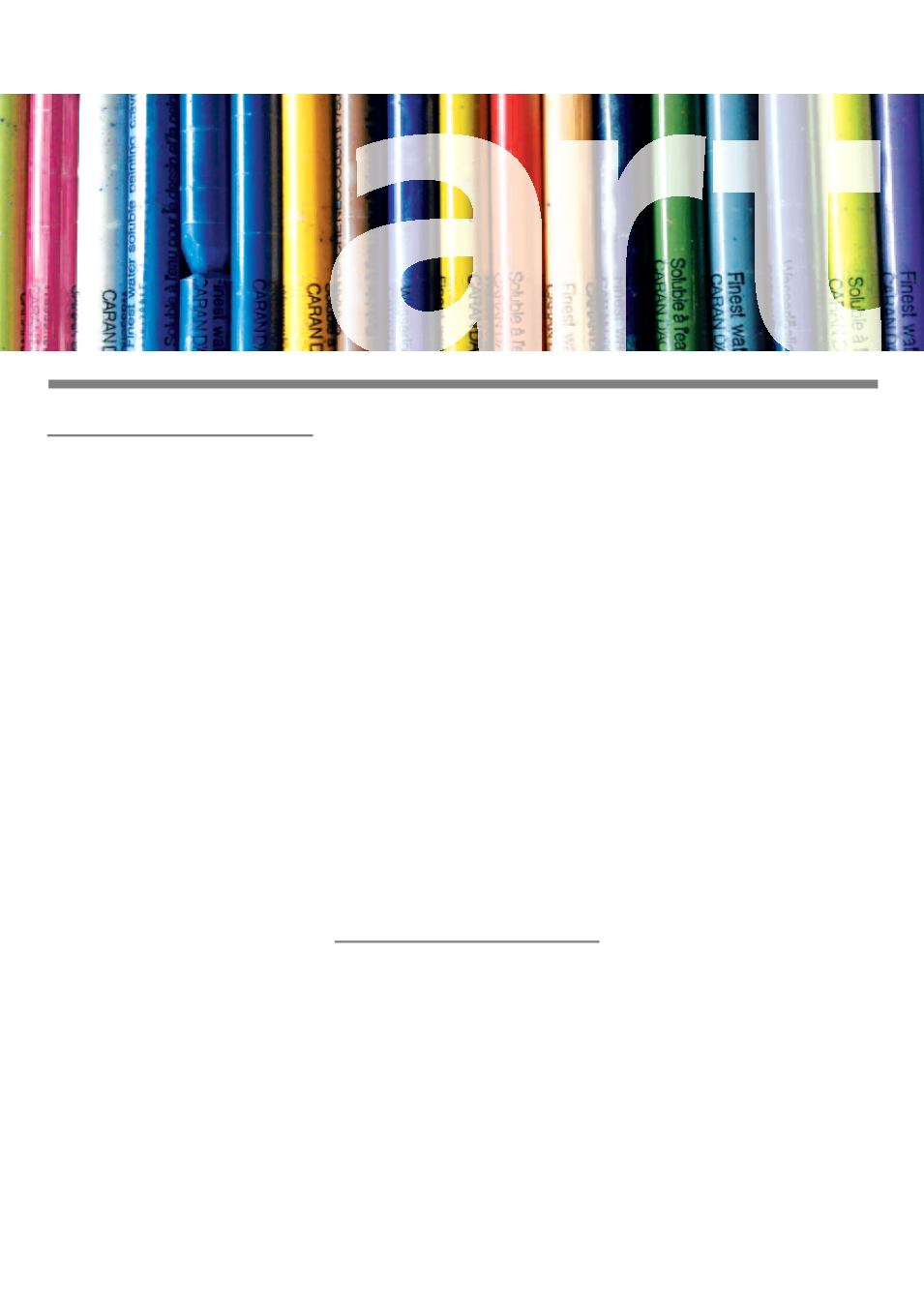 This was 20 years ago. I had no
idea these classes would inspire
a magical and arduous journey
towards painting as a way of life.
My understanding of the complex
language of art grew under the
generous encouragement of
many patient teachers. As my
skills expanded a whole new
world was revealed to me – one
with which I felt a deep affinity.
My imagination stimulated,
I developed my own artistic voice.
Later I shared life drawing
master classes at the Slade with
more experienced artists, where
long poses were held by the
model each day for a month, to
develop in-depth observation
skills. This opportunity to meet
and work with other artists,
approaches, and sharing ideas
was also very encouraging, and
enhanced my self-confidence
and desire to experiment for
Courses I have taken over 20
years include painting at City Lit,
Morley College and the Cass, life
Camden Arts Centre, etching at
City & Guilds and screenprinting
at the London Print Studio.
I cannot thank enough those
dedicated teachers who allowed
me to build up my own artistic
vision. Courses will not make you
an artist, but they will put you on
the road. You have to travel it, as
I have travelled it, with delight.
both lodestars for me. "If you can
teach, you can teach under a
tree in the park" one mentor
pointed out. And then another
seasoned tutor who pictured the
Slade corridors in the 60s with
tutors politely deferring at
doorways, on who may best
Once, the NatWest Tower was
the new jewel on the skyline.
pinnacles of the city it can still be
the most modest of articles,
subject to draw – the security
guard ensconced in solitude, the
Hamlet figure or 'Alan B'stard'
type reclaiming St Paul's for a
shindig after the protesters'
encampment has been hosed
Daniel teaches at the Prince's
School of Traditional Art
As an artist, I feel that learning
new skills and encountering new
ideas is not a luxury but a
necessity. Studying a variety of
art courses over the years has
strengthened my line drawing
and composition. At my first life
drawing class, I was nervous.
The gap between what I wanted
to do and what I could do was
too wide. I learned from the
teacher to encapsulate rapidly a
general impression of the figure
concept of negative space was a
8
Alongside the many longer
professional courses being
offered in art education, there
has always been a whole range
of short courses, conducted out
of house and managed within the
amenities of public spaces that
have proved attractive to the
autodidact, the teacher or the
artist who still feels the need to
example, offers a variety of such
opportunities to its Public
Programme and Drawing year
accustomed to the customary
hoops and theories of art school
life. To join any of them is to
become part of a random crew
common than an interest in
modern buildings or some notion
neighbourhood. It is a way, also,
to be part of an art group which
allows you to influence the aims
and paths of the expeditions
Getting started on a drawing in
the street is something of a
leveller too – whether you see
yourself as a free pirate or in the
navy becomes a background
proximity of the deep sea. Is
there a way in which weather-
dependent art courses are able
to sharpen the aspirations of so
many drawing pilgrims? I recall
two contrasting anecdotes here,
Art courses for all – the Galleries guide