PRESS RELEASE
<![if !supportEmptyParas]> <![endif]>
FIGURED OUT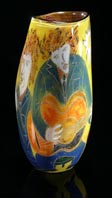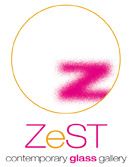 An exhibition of figurative glass art by
Luana Adriani, Vic Bamforth, Tillie Burden and Alison Kinnaird
<![if !supportEmptyParas]> <![endif]>
<![if !supportEmptyParas]> <![endif]>
19th September to 20th October 2007
<![if !supportEmptyParas]> <![endif]>
ZeST Gallery, London's top destination for contemporary glass art, is showcasing the work of four glass artists whose work is inspired by the human figure. The pieces in Figured Out illustrate how each artist's use of different techniques and narrative content results in work that highlights the versatility of glass as a medium and the human form as subject.
<![if !supportEmptyParas]> <![endif]>
Alison Kinnaird has been engraving glass for more than 30 years. She was awarded an MBE in 1997 for her services to art and music, and is also the recipient of numerous artistic accolades, including the Creative Scotland Award.
The groundbreaking work in Figured Out shows Alison's progression from traditional copper-wheel engraving as a small-scale, intimate endeavour to an exciting technique for large-scale installation using dichroic colour and optical fibre lighting.
<![if !supportEmptyParas]> <![endif]>
The exacting and time-consuming copper-wheel technique inspires her work and the endeavour becomes a meditative pursuit of perfection. The human figure remains the main subject of the pieces, for which glass is an ideal medium – its transparency and mirror surfaces give different insights on the human condition:
<![if !supportEmptyParas]> <![endif]>
'Often I use the glass in its character of a window or a doorway, sometimes to suggest isolation or entrapment, sometimes with the figures poised between two worlds. Sometimes they confront an opposite or a mirror image.'
Alison Kinnaird
<![if !supportEmptyParas]> <![endif]>
Vic Bamforth has only been working in glass since 2000, but has already developed a vibrant and recognisable style. Vic uses his glass blowing skills to make heavy blown vessels, which become a glass canvas, and with high-firing enamel paints he uses his skills as a painter to create humorous and colourfully captured scenes from everyday life.
<![if !supportEmptyParas]> <![endif]>
Luana Adriani comes to glass from a background in graphic design and uses sandblasting and diamond-point engraving as a means of bringing glass to life. Her portraits depict women who are mysterious, wistful and romantic, waiting to be discovered.
<![if !supportEmptyParas]> <![endif]>
Tillie Burden trained in hot-glass in her native Australia, and has travelled to glass blowing studios all over the world, including working in Adam Aaronson's studio adjacent to ZeST Gallery. Her pieces reduce the human form to the most simple elements, but are instantly recognisable, bringing a smile to the soul.
<![if !supportEmptyParas]> <![endif]>
ZeST Gallery brings outstanding British and international glass to a wider audience through an exciting, changing exhibition programme alongside an extensive permanent collection of Adam Aaronson's own work.
Visitors are also able to tour the adjacent glass studio, where Adam makes his critically acclaimed work, and will enjoy a fascinating insight into the skilled process of glass making.
<![if !supportEmptyParas]> <![endif]>
Entrance is free and all designs are available to buy from ZeST Gallery.
<![if !supportEmptyParas]> <![endif]>
For images, artist biographies or further information on the exhibition or Aaronson Noon Glass Studio please contact Nell Reid on 020 7610 1900 or email nell@zestgallery.com
<![if !supportEmptyParas]> <![endif]>
ZeST Gallery is open:
Tuesday to Saturday, 10am to 6pm
Notes to editors:
<![if !supportEmptyParas]> <![endif]>
Adam Aaronson
For more than 25 years, aside from making his own glass, Adam Aaronson has been discovering and promoting emerging artists, including many who are now established glass artists, such as Tessa Clegg, Anna Dickinson and many others. He has always offered residencies and internships to both British and international artists and continues to support new glass talent by working collaboratively with artists, encouraging their use of hot glass in his studio.
<![if !supportEmptyParas]> <![endif]>
ZeST Gallery
ZeST Gallery opened in September 2003 to exhibit cutting edge contemporary glass art. It showcases the work of renowned glass artists as well as new faces on the scene.
<![if !supportEmptyParas]> <![endif]>
Aaronson Noon Glass Studio
Adam Aaronson's studio runs half-day glass blowing courses offering an exciting and intensive experience aimed at introducing beginners or novices to the wonders of hot glass. Further information available from nell@zestgallery.com / 020 7610 1900.
<![if !supportEmptyParas]> <![endif]>
<![if !supportEmptyParas]> <![endif]>
<![if !supportEmptyParas]> <![endif]>
<![if !supportEmptyParas]> <![endif]>
<![if !supportEmptyParas]> <![endif]>