How I respond to what I see
Hock Tee Tan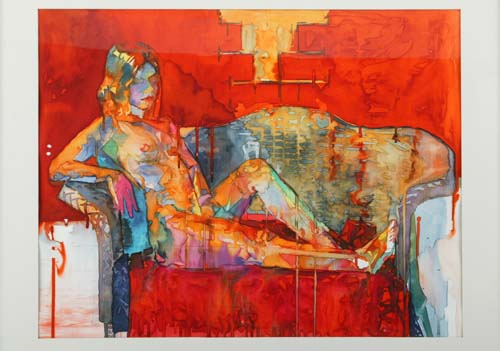 Seated nude (red) h 600mm x w760mm – From 'Gravity' series
Tan's approach
There is a precision, discipline and control inherent within the oils and drawings of Tan. But in his watercolours, Tan encourages the spontaneity which comes from the response of paint to the natural force of gravity.
The result is that the structure and contours of the human body take on a greater definition and a new relationship is borne. The drama of the colours creates a level of abstraction which redefines the figure and brings out the emotions it evokes.
Every painting in the 'Gravity' series is individual. The unpredictability of the vertical falls gives a freshness to the image and adds a new dimension to his work.
"The way the paint flows is never the same twice. – so every painting becomes a discovery. There is greater definition of the body as a result of the vertical lines which are suspended from the outline. The colours become vibrant and bring the painting to life".
Tan's first solo exhibition will be
17th – 23rd September GALLERY 54
54 Shepherd Market, Mayfair, W1Y 7HP
Mon-Sat 10-8.30pm, Sun 10-2pm
Further information
Telephone 0207 7312928. email httan@btinternet.com
Tan's history
b. 1952 Bintulu, Sarawak, East Malaysia
Brief history
1970-73 Fine Art, Nanyang Academy of Fine Art, Singapore
1976-79 Graphic Design, West Surrey College of Art and Design, England
79-01 Art director – advertising and graphic design
01-06 Heatherly's School of Fine Art
Selected Exhibitions
2007 Royal Society of Portrait Painters
2007 Royal Society of British Artists