PRESS RELEASE
Art Exhibition – "Crossing Continents"
Monday 24 September to Saturday - 29 September 2007
@
Art Space Gallery 18 Maddox Street, London W1S 1PN
Monday 24 September to Saturday - 29 September 2007
1130 – 1830 Daily (Free Entry)
Private View Thursday 27 September 6- 9 PM
AFRIKART is proud to present Crossing Continents – an exhibition presenting a brilliantly diverse yet complementary mix of art by four exceptional painters from the two sides of the Indian Ocean. The successful juxtaposition of these works demonstrate that " art belongs to the whole world, and before them vanish the barriers of nationality" – Goethe.
This exhibition presents the sublime brilliance of Madhumati amidst the works of an amazing group of artists from Uganda, Kenya and Sudan. It represents a unique opportunity to present great art from the two sides of the Indian Ocean – East Africa and India. Khartoum, Nairobi, Kampala and Kolkata are the far-flung destinations linked together in this exhibition to truly reflect a wide landscape of influences and outlooks under one roof.
As an exhibition, CROSSING CONTINENTS is symbolic of the unifying and cohesive qualities of great art that Kwame Akuffo and AFRIKART are dedicated to showcase and promote. The event is a wonderful showcase of talent from a diverse collection of Indian and East African artists. It brings together art from two parts of the world linked by a common colonial heritage and the mass movement of people for work and trade.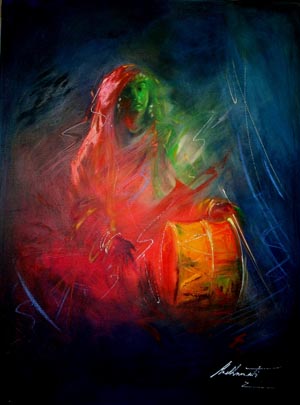 The Folk Singer by Madhumati 80 x 60 oils on canvas
These links have not always been happy ones, yet they still persist today in the relationship between East African painters and the Indian businessmen who market their work to an ever growing international audience. As well as making a positive difference in the lives of local Indian and East African artists, Crossing Continents is also about the similarities that bind us.
Private View: Thursday 27 September 2007 1800 -2100
Address: 18 Maddox Street, London W1S 1PN
Contact: Kwame Akuffo
Mobile: 07880 794751
Email: kwameakuffo@btinternet.com
Website: www.afrikart-gallerie.com
How to get to the exhibition:
http://www.multimap.com/maps/#t=l&map=51.51324,-0.14216|17|4&loc=GB:51.51324:-0.14216:16|18 Maddox Street, London W1S 1PN|W1S 1PN
Nearest transport link

Nearest Underground station Oxford Circus (0.14mi, 0.22km)
5 minutes walk
The exhibition features paintings by:
Madhumati Manda is a hugely talented young painter and musician with a numerous exhibitions under her belt. Madhumati is an inspired artist with a subtle, sublime touch (see the Folk Singer) and an abstract to impressionistic style. She has produced fourteen paintings for the exhibition. Madhumati says, "In art I have found my way, and in this way, I am lost - for in losing myself I have found bewilderment and wonder. As long as I am lost in my art and in my creativity, I shall happily paint along sometimes stopping in interesting places to discover things anew." Born in Kolkata in India, Madhumati currently lives in the UK.
Born in 1966 in Sudan, Abushariaa Ahmed has been living in Nairobi since 1994. His success in Kenya made it possible for a queue of his compatriots to move to Kenya to work as artists. Abushariaa has been described as an 'inspiring poet with his brush,' and at a glance, his work is rich with decorative symbols and profuse imagery flowing from a fertile imagination. His semi-abstract style appeals to the international art world and yet after enjoying his rich colours and original compositions, if you look closer, you may notice religious symbols and images and the occasional Arabic calligraphy. Abushariaa has provided ten paintings for this exhibition.
Stephen Gwoktcho's work is characterized by striking colours and sensitive lines. He paints using watercolours and oil on canvas. He has invented three characters through which he has expressed his vast experience as a professional artist. His work demystifies the racial barriers - blacks with blue eyes; whites with Masaai Embroidery, etc. Watch out for his brilliant satirical paintings using acrylic on bark cloth. You'll know them when you see them.
Born in 1965, Ash Uman is the alias of a Kenyan artist, who began his vocational career as scientific worker at the Laikipia Research Program in Kenya. His abstract pictures are implemented with strong brush lines full ecstasy, spiritualism and passion. They are expressions of his take on the plight of the modern world.