PRESS RELEASE
ART EXHIBITION (INSPIRATIONS AND CONFLUENCE)
Celebrating African Excellence in the Visual Arts & Supporting Ghana at 50
Monday 24 September to Saturday - 29 September 2007
@ artspace-galleries.com 18 Maddox Street, London W1S 1PL
1100 – 1830 Daily (Free Entry)
AFRIKART GALLERIE is proud to celebrate the 50th anniversary of Ghana's independence with an exciting exhibition of stunning paintings by some of Ghana's best known artists.
INSPIRATIONS AND CONFLUENCE is a unique exhibition of contemporary Ghanaian paintings featuring the influential works of three of the most outstanding art professors of the last 50 years; Ablade Glover, Ato Delaquis and the late E.V. Asihene. This collection of paintings is therefore both a representation and a link to the humble beginnings of art teaching in Ghana from Achimota College, Accra, to its current exuberant and exalted state of practice at the modern College of Art in Kumasi.
This breathtaking new exhibition celebrates the confluence of ideas, artists and art forms that have emerged from the urban streets and villages of Ghana as well as the western artistic traditions that have influenced and inspired the development of art in the former Gold Coast. Also featured, are the works of outstanding former students of the College of Art, Larry Otoo and Wiz, alongside the exceptional artistic talents of Gabriel Eklou and Glen Turner.
As an exhibition to mark 50 years of Ghanaian independence, INSPIRATIONS AND CONFLUENCE represents just a small part of what is exceptional about contemporary art in Ghana today. These artists are not just famous in West Africa; they are recognised and followed in places like Germany, Holland, Switzerland, and each has accumulated numerous international awards in the process.
Art Collector and Curator, Kwame Akuffo said, "We are very proud to have been able to assemble this great collection of work as homage to the College of Art and its role in nurturing and supporting artistic excellence in Ghana over the past 50 years."
Join us as we look forward to 50 more years of excellence generated through the College of Art; and celebrate the great contribution it has made to the development of modern Ghanaian culture.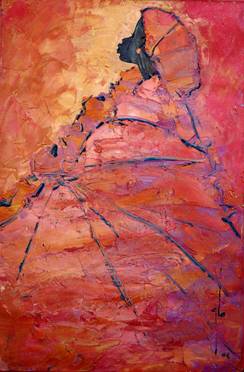 Untitled by Ablade Glover 90 x 60cm oils on canvas
Paintings by Professor Ernest Asihene,

Professor Ato Delaquis

Gabriel Eklou

Professor Ablade Glover

Larry Otoo

Glen Turner &

Wiz
Private View: Tuesday 25 September 2007 1800 -2030
Address: 18 Maddox Street, London W1S 1PN
Contact: Kwame Akuffo
Mobile: 07880 794751
Email: kwameakuffo@btinternet.com
Website: www.afrikart-gallerie.com
How to get to the exhibition:
http://www.multimap.com/maps/#t=l&map=51.51324,-0.14216|17|4&loc=GB:51.51324:-0.14216:16|18 Maddox Street, London W1S 1PN|W1S 1PN
Nearest transport link
Nearest Underground station

Oxford Circus (0.14mi, 0.22km)

5 minutes walk