The Other Side oil on linen 153 x 183cm 2006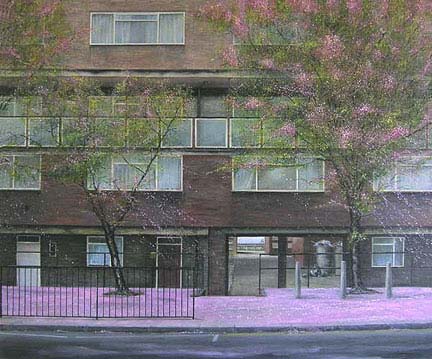 LIZ BAILEY On the Road
September 12th - October 7th 2006
Private View: 12 September 6.00 - 8.30 pm
Tricycle Gallery. Free admission.
Open every day from 10.00 am - 10.00 pm and Sunday 3.00 – 9.00 pm
For information please call +44 (0) 20 7372 6611
Liz Bailey is a graduate of Byam Shaw School of Art and The Florence Trust Studios Residency. She has been included in numerous group exhibitions including the 'Summer Exhibition' at the Royal Academy of Art, 'Discerning Eye' at Mall Galleries and at Vertigo Gallery. Her work was short listed for the Celeste Art Prize 2006. This is her first solo exhibition. The exhibition has been co-selected by the Tricycle Selection Committee as part of the Tricycle Open 2006.
'The boys were sleeping, and I was alone in my eternity at the wheel, and the road ran straight as an
arrow. Not like driving across Carolina, or Texas, or Arizona or Illinois; but like driving across the world and into places where we would finally learn ourselves…..' Jack Kerouac, On the Road
In the forthcoming exhibition at the Tricycle Gallery, Liz Bailey's landscape paintings focus on the junctures of nature/culture, city/country and the juxtapositions that occur in our changing contemporary landscape. She uses her travels as the basis of her practice as well as where these journeys may lead her, both physically and psychologically. Her paintings are part of an ongoing series that were initially a response to the repetitiveness of motorway travel and how the passing landscape is viewed from a car. She references the lone driver in road movies who has entered our consciousness as a landscape convention, like a contemporary version of Friedrich's lone figure experiencing the sublime.
Bailey's paintings seem familiar as they comment on the 'spaces in between', where we have come from and where we are going, and in doing so she emphasizes and slows down an insignificant moment in time. These works are also about boundaries, how we are kept to the route and whether crash barriers make us feel safe or in danger. More recently her work incorporates her travels through the city while still exploring elements of nature found amongst the urban sprawl.
Gallery, Theatre, Cinema & Café. Disabled Access.
Tube Kilburn (Jubilee Line) Train Brondesbury (Silverlink)
Bus 16 31 32 98 189 206 316 328
________________________________________________________________________
For information and images, please contact
Gallery Coordinator, Tricycle Gallery, 269 Kilburn High Road London NW6 7JR
Call +44 (0) 20 7372 6611/ext 122 Fax +44 (0) 20 7328 0795
Email gallery@tricycle.co.uk | liz@lizbailey.org.uk
Visit www.tricycle.co.uk | www.lizbailey.org.uk