Mary Follett is an artist living and working in Cornwall England. Having graduated this summer with a BA (Hons) in Fine Art at University College Falmouth, she exhibits her work around the South West and London. Specialising in painting and printmaking, her work is inspired by her surroundings and her interest in natural surfaces and landscapes – the translation of space, perspective, repetition, flatness and light.

Using landscape as her starting point, she responds to the familiar order of space, image, structure and topography that is found in nature. Within her paintings and prints she explores these domains, considering the movement and energy in the landscape, the way it's monumentality as well as it's delicacy makes an impression on the mind.

It has been said that "nature is on the inside", expressing the notion that what is experienced and remembered is what really exists. That in effect, the fleetingly ephemeral, often ambiguous, but always piercingly real nature of memories is what governs our basis of knowledge as well as our awareness of self. By drawing simply on this, Mary Follett's work seeks to suggest and touch upon the beauty and transience of these memories, (condensing not only form within a place but the associations that accompany them) hoping that others are affected and ultimately can experience them also.

Her exhibition in Padstow this autumn contains her latest paintings and prints (etchings, monoprints and woodcuts) based on studies of the Cornish coastline. A vibrant and varied collection of work, it speaks of the layering and motion of nature within autonomous form. Her painted/printed shapes are fluid and receptive, ephemeral, yet confident in their execution.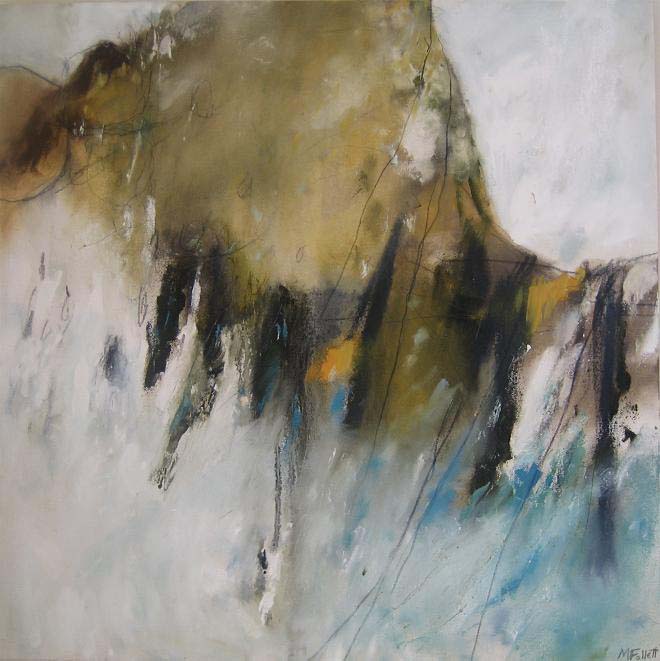 ('Fleeting Tides' at Padstow Contemporary Gallery, 16th September to 16th October)
February 2006

'Originals 06: The Contemporary Printmaking Show', Mall Galleries,
London
January 2006

'Contemporary print exhibition, Artonomy Gallery,
Truro
,
Cornwall
April 2005 -
Padstow
Contemporary
Art
Gallery
,
Padstow,
Cornwall
January 2005

'Midstream',
Falmouth
Arts Centre,
Falmouth
,
Cornwall
March
2004-05

Middle Street
Art Gallery,
Padstow,
Cornwall