GRO THORSEN
'Night and Day'
Paintings
12 SEPTEMBER - 13 OCTOBER 2006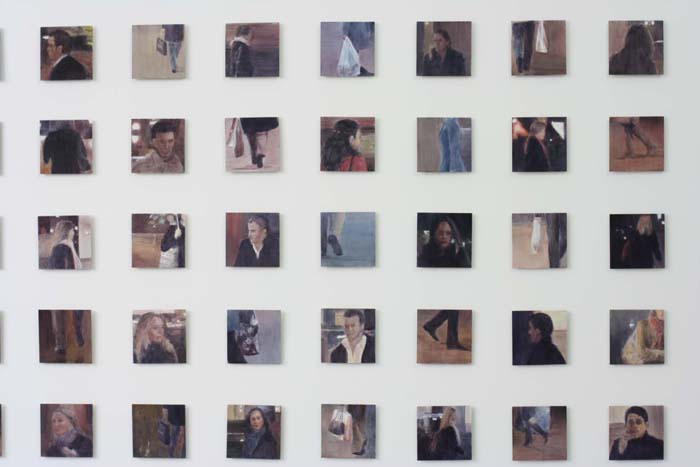 Jill George Gallery is delighted to announce the first UK solo exhibition by painter Gro Thorsen, who has been showing at the Gallery for two years. This exhibition will present a selection of new works which continue the artist's fascination with the human figure glimpsed in motion.
Initially interested in cityscapes, Gro Thorsen began painting images of urban streets peopled with anonymous figures. Gradually she removed the buildings from her compositions, focussing completely on the figures. Rather than developing these figures into recognisable 'personalities', however, the artist concentrates on their anonymity. So quiet, purposeful people are seen congregating and moving across the picture surfaces, recorded in transit between the myriad nameless tasks that occupy a professional working day.
Each work starts as a video shot in a major urban location – Berlin, London, Madrid or Stockholm – from which the artist selects various frames as source material for the work. Anonymous, transitory figures then become the subjects of her paintings, and are depicted either complete on canvas, or as fragments on small-scale squares that are assembled, like story boards, into single works.
The figures in Gro Thorsen's canvases inhabit a stark, lonely world with a palette of crisp, cold colour that emphasises the cool minimalism of their composition. Single figures, mysteriously illuminated from an unknown source, float over the flat background like ethereal modern spectres. To examine each figure closely in the hope of picking out defining characteristics is like wishing for more image enhancement on CCTV pictures: the more you try, the more they dissolve back into their anonymity. Built up with layers of gentle colour, these paintings respond subtly to light and context.
The 'story board' paintings are much more animated. Each work is composed of anything from twenty to a few hundred small, square images, each a fragment of a human figure, again glimpsed in passing. Night Studies recalls the images we subconsciously assimilate on a busy street, faces, bodies and limbs which coalesce and dissipate as the viewer's eye moves over the constituent parts of the teeming whole. Unlike the canvases, these works present more recognisable detail to the viewer, and although still anonymous, the figures bear discernible features and objects that suggest a possible, but elusive, narrative.
Gro Thorsen's paintings reflect the constant, ever-changing movement of the anonymous urban lives thronging every city. Her work gives these figures a sense of identity and purpose whilst creating busy, dynamic, and yet subtle, minimalist cityscapes.
Notes for Editors
Gro Thorsen was born in

Bergen

,

Norway

in 1966 and began art studies at

Bergen

Art

School

. She obtained a BA (Hons) in Fine Art from Wimbledon School of Art in 1999.

Previous solo exhibitions have all been in

Norway

at Bergen Kunsthall (2003), Sandefjord Kunstforening (2002) and Intimgalleriet, Bergens Kunstforening(2000).

Group shows include Norske Bilder, Rådhusgalleriet, Oslo (2005/6), 'The Figure Show', Jill George Gallery (2005/6), ARTfutures, Contemporary Art Society, London (2004), 'City to City', Collyer-Bristow Gallery, London (2003), RWA Open Painting Exhibition, Royal West of England Academy, Bristol (2001), International Young Art 2001, Sotheby's New York and Tel Aviv (2001), 'Good Taste/Bad Taste', Studio Voltaire, London (2000), 'Refuset Kuratorens Utvalg', Stavanger Kunstforening, Norway (1998). The artist will also be included in group exhibitions at the and 'Norwegian Pictures', Town Hall,

Oslo

(7-24 October 2006) and 'National Union of Painters' Gallery,

Oslo

(August 2007)

Gro Thorsen's work is in private collections in the

UK

,

Ireland

,

USA

,

Germany

,

Israel

,

Norway

,

Switzerland

,

France

and

Mexico

.

The artist was shortlisted for the 2006 Celeste Art Prize

Jill

George

Gallery

began by exhibiting the work of recent graduates and new artists and now shows selected painting and sculpture from a roster of international artists.
If you require any further information or images please contact Jill George Gallery on 020 7439 7319 or email press@jillgeorgegallery.co.uk
Jill George Gallery is open weekdays 10am – 6pm, Saturdays 11am – 5pm, Thursdays until . www.jillgeorgegallery.co.uk