Outstanding artist to exhibit for the first time in Cornwall.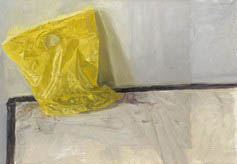 Artonomy Fine Art's summer exhibition unites solid figurative painting alongside expressionistic landscapes and artists' original prints from 11

th August - 8th September.

James Lloyd, one of the UK's leading figurative painters of his generation, has his first solo exhibition in Cornwall at Artonomy Fine Art this August. Lloyd's work originally found critical acclaim when the artist painted an outstanding portrait of the fashion designer Paul Smith which was exhibited at the National Portrait Gallery. In recent years Lloyd's work has attracted a growing audience for its painterly realist approach and its honesty towards each chosen subject. The artist often chooses to record the anonymous, an old plastic container of turps, a single chair but alongside such ingredients, Lloyd has included a vase of flowers, a self portrait with his daughter and a fruit still life, all expressed in his distinct style. The finished paintings with their particular idiosyncrasies are both intimate and genuinely engaging.

James Lloyd recently exhibited at the Browse and Darby Gallery in Cork Street in London, he won the first prize in the Discerning Eye exhibition in 2003 and regional prize in the Hunting Art Prizes in 2000. He gained a higher diploma at The Slade School of Fine Art.

'James is in his early mid - career, and we are delighted such a reputable artist has agreed to exhibit in Cornwall and give a Southwest audience the chance to view his work', comments Elaine Hayman, partner at Artonomy.