Ernst Blensdorf 1896 - 1976 A Retrospective Exhibition July 4th - 1st August 2008 This Bruton exhibition gives an opportunity to see the work of the comparatively little-known German-born sculptor Ernst Blensdorf (1896-1976) who,outside the main stream of British sculpture, worked in Somerset for 35 years producing a unique modernstyle utilising the swirling patterns of Somerset elm. On July 4th Fay Weldon is opening the exhibitionat the Hobhouse Building in Kings School, Bruton, BA10 0EF.
Blensdorf came to Somerset in 1941, after seven years in Norway, as a refugee from Nazi Germany where he had been denounced as a degenerate artist.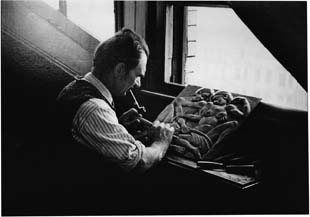 The works range from monumental pieces suchas the larger than life-size 'Abraham's Sacrifice'(Downside School) to semi-abstract works whichexploit the swirling grain of the elm such as 'DanceRhythm' (Southampton Art Gallery). 'Last Work' (Somerset County Museum, Taunton), a poignant,unfinished piece on which Blensdorf worked towithin a few days of his death, created from an intractable victim of Dutch Elm Disease, will also be on display.
Wood became his main medium as it was readily available and affordable.This major retrospective contains over 200 items including 30 of his signature wooden pieces. Many previously unseen terracotta maquettes, ceramic pieces and sketches will set the sculpture in context and show the full range of Blensdorf's highly expressive work from the 'totemic' style of his earlier and monumental pieces to the free-flowing, near abstraction of his later work.