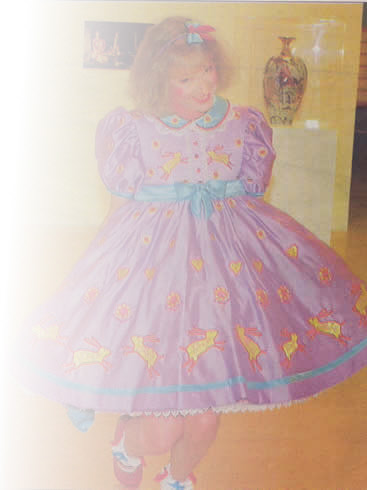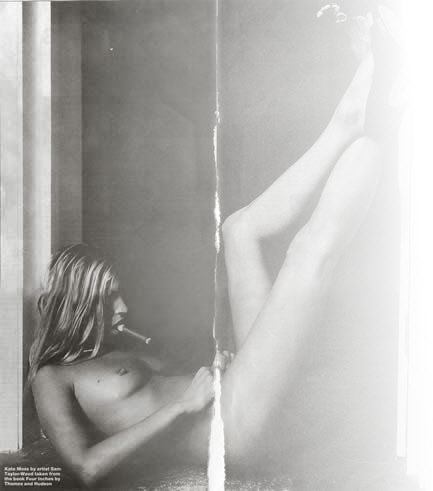 KATE MOSS AND GRAYSON PERRY REINVENT THEMSELVES ON DILLY'S NEW WEBSITE —
Grayson Perry, winner of the Turner prize in 2003 and world famous potter, is someone of special interest to Dilly Bundy for his expertise in reinventing himself. No one wears party frocks quite like Grayson, and for sometime Dilly has been wanting to create his sartorial brilliance in paint.
But
Grayson Perry Reinventing Himself
stubbornly refused to be painted. Dilly despaired of him drying in time for her most recent exhibition. Finally, more by luck than judgement, she found the solution.
Grayson wears his glitzy party frocks in the guise of Claire, his alter ego. Could Dilly become some other Claire? Her childhood self perhaps, wearing just such a confection of flounces, bows and lace trimmings to captivate Prince Charming?
So take a curtsey, Grayson, aka Claire, aka Dilly!
The art of reinvention seems to be strangely inclusive. Inhabiting Grayson's world for the duration of paint drying on his canvas proved to be a successful short course of 'self-psychiatric medication' — his words not Dilly's!
Were you wowed by Sam Taylor-Wood's photo of Kate Moss reclining naked in a doorway? Did you rip it from the paper with frenzied gusto, seeing visions of figures by Francis Bacon in your mind's eye? No? Then console yourself that you're not Dilly Bundy, portrait artist living and working on Menorca in the Balearics and obsessed by ideas of reinvention.
To her eye here was Kate gainfully reinventing herself. No longer content with super model stardom, the threads of ambiguity tangled themselves marvellously on Sam Taylor-Wood's stage. Fashion icon grabs a place in the Fine Art arena. And why not?
Dilly exhibited her painted version of this photo last September at an Annual Fiesta Painting Exhibition in Mahón, where the only constraint was size. If yardage won the first prize of several thousand euros,
Kate Reinventing Herself
was far too small at 3 x 4 feet. However, she had been given her first outing and Dilly had other ideas for her.
The Town Hall Art Gallery in Alaior! OK! So not London or New York, but this time
Kate Reinventing Herself
was going to be the star of the show. That is until Grayson Perry muscled in on the act wearing a dress. He won every accolade going!