| | | |
| --- | --- | --- |
| | Curwen & New Academy GalleryBusiness Art Galleries, 34 Windmill Street, Fitzrovia, London W1T 2JR Tel: 020-7323 4700 / Fax: 020-7436 3059 / Web: www.curwengallery.com E-mail: gallery@curwengallery.com | |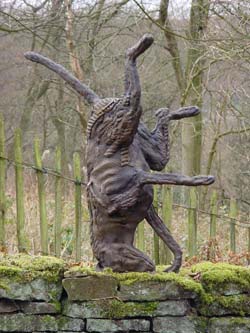 The Great Outdoors Show
An exhibition of art for the garden
27 June – 25 July 2007
Private View 26 June 6-8pm
Various artists working with weatherproof materials including Patrick Barker, Naomi Blake, Clare Bigger, Julia Brooker, Bim Burton, Susan Goldblatt, Jamie Gutch Alison Neville, Zoë Rubens, & Marjan Wouda.
Just in time for the summer, Curwen & New Academy Gallery are exhibiting work by artists who have made art specifically for outdoor spaces. Each of these artists work in a vastly different way and use a variety of mediums, creating a collection of work spanning from traditional bronze sculptures to innovative wooden mobiles and paintings on metal.
Naomi Blake's calming and thoughtful bronze figures contrast with energetic stainless steel cats by Clare Bigger, which capture movement and form with the use of space and some ingenious welding. Marjan Wouda's latest sculpture is also a feline image; in her case a textured bronze cat titled 'Sentry', aloof to its surroundings in gallery or garden. Zoë Rubens uses recycled materials to create scenes, landscapes and creatures. Birds perch on top of large metal poles, and on closer inspection reveal a skilfully entwined mesh of old keys, scissor blades, fountain pen nibs and various other found objects. Alison Neville has turned her attention to a small ceramic temple, designed for a Patio and inspired by 'The Temple of the Four Winds' by Vanburgh at Castle Howard.
The medium of wood is explored by Jamie Gutch and Bim Burton, a weathered oak mobile by Gutch and furniture by Burton. The latter, crafted from wood, offers not only fascinating objects to view but also fully functional ones, in this case, a bench designed specifically for the garden.
In addition to these more sculptural pieces, the exhibition also shows wall based works such as Susan Goldblatt's intricate and colourful mosaics and Julia Brooker's large abstract paintings. These can be painted on stainless steel, making them ideal for an open terrace or Gazebo.
Image: Marjan Wouda, Dog Performing Headstand, bronze, 77cm high
If you would like any further information or images, please contact Natalie Suggitt at Curwen & New Academy Gallery by emailing Natalie@curwengallery.com or by telephone on 0207 323 4700.
Business Art Galleries Limited registered in England. Registered office as above, number 1352365
Directors: John A Hutchings TD FCA (Managing), Bernard Dunstan RA, Jill Hutchings, Leonard Rosoman OBE RA