New Work by Jason Walker - gallery one
New prints & mixed media by Bridgette Ashton - gallery two
Works on Tooth & Paper by Cordelia Cembrowicz - gallery threeDates; 30th June - 4th August
Venue; Artonomy Fine Art, Green Street, Truro, TR1 2LH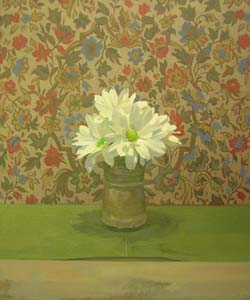 Artonomy presents recent work by Jason Walker in gallery one. Highly regarded for his sensitive and considered paintings, Walker comments: 'People always ask me to talk about my work, something I find very difficult. The concept and development of a painting can often be quite random. However, on a old blackboard in my studio I have scribbled a rhyming couplet, by Robert Stevenson entitled 'Happy Thought'. I read it every day. It is entirely possible that my recent work is a response, direct or otherwise, to my thoughts on these words'. Walker graduated from The Falmouth College of Art in 1992. As well as a series of solo exhibitions nationally, he has shown in The Discerning Eye Exhibition, The Hunting Art Prizes and The National Portrait Gallery's BP Portrait Award, for which his entry this year has been accepted. In 2004 he won the Holburne Portrait Prize, and was commissioned to paint Glastonbury Festival founder, Michael Eavis. The portrait is now in the permanent collection at The Holburne Museum of Art in Bath.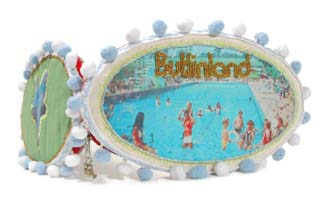 Exhibiting in gallery two is Bridgette Ashton, one of the South West's most inventive and established conceptual artists, showing new prints and mixed media pieces. Ashton's recent work continues her long-standing fascination with a nostalgia of holiday-making.
Working mostly on a small scale, she combines drawing, assemblage, print, stitching and photography to create works which are often flagrantly sentimental. The instant charismatic appeal of Ashton's work presents a paradox to the viewer since its celebratory and
comfortable familiarality is underpinned with sucessive layers of meaning and it is this aspect that makes her work both unique and exciting. 'Ashton's work is not the thing it represents , but is in fact a product of the imagination and skilled labour of a highly trained artist'. Dr Stephen Riley, a-n magazine. Ashton had a recent solo exhibition at the Russell Cotes Museum & Art Gallery,
Bournemouth and has participated in shows across the UK including 'Transformations' at Pitt Rivers Museum, Oxford, 'Insula Ovinium' on the Isle of Sheppey and at Hogarth House, Chiswick; and her work recently toured with the Met Office's 'Elemental Insight' exhibition. She has also shown in a number of alternative spaces including at the eighteenth century 'Scott's Grotto' in Hertfordshire.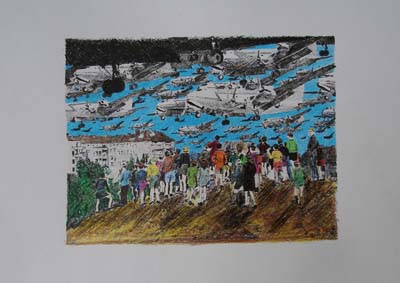 Works on paper by University College Falmouth graduate Cordelia Cembrowicz are showing in gallery three. She explains: 'I enjoy creating a sense of sanctuary for the viewer within much of my work. Various representations of groups of people act as visual reminders of societies, families, communities and support networks to which we all belong''. Cembrowicz recently received national recognition for her intricate 'Tooth Fairy' sculptures which were exhibited at Artonomy's Midas Graduate Award, a competition to be held once again this October.

The exhibitions continues until 4th August at Artonomy Fine Art, Green Street, Truro.

For further information please contact Elaine Hayman ; 01872 277733
ENDS
Elaine Hayman
Partner