BROWSE & DARBY OPENS MAJOR EXHIBITION OF RENOWNED MODERNIST HENRI GAUDIER-BRZESKA
Distinguished London gallery Browse & Darby, are pleased to present from 18th June an exhibition of works by Henri Gaudier-Brzeska, the renowned French-born sculptor and Modernist pioneer. The exhibition is in association with The Mercury Gallery, who mounted eight exhibitions of Gaudier-Brzeska's work between 1968 and 1995 and will run from 18th June until 25th July 2008.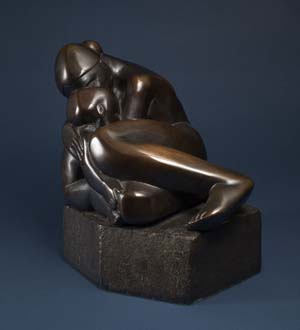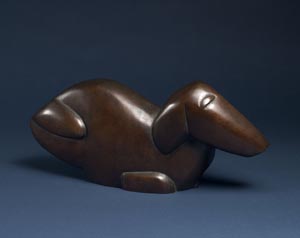 This display is the first major Gaudier-Brzeska exhibition in the UK in recent years and pre-figures a retrospective of the artist's work at the Pompidou Centre, Paris, which is planned for 2009. Visitors to Browse & Darby will have a rare opportunity to view a selection of the artist's important sculptures and drawings, which demonstrate his diverse ideas and interests.
Born in 1891 in St Jean-de-Braye, a small village outside Orléans, Gaudier-Brzeska moved to London in 1911, with his companion Sophie Brzeska. They arrived at the beginning of an intense period of literary and artistic creativity in the city. Roger Fry's ground breaking Post-Impressionist exhibitions of 1910 and 1912, together with a major Italian Futurist exhibition, had inspired many artists to turn towards the extremes of construction and to experiment with form and mass; Gaudier-Brzeska was no exception. He soon developed close friendships with key members of the English avant-garde, including Ezra Pound, Horace Brodzky, Wyndham Lewis and Jacob Epstein, and became closely aligned with the Vorticist movement - a whirling force of new ideas embracing cubism, expressionism and futurism – publishing his manifesto in the Vorticist title 'Blast'.
Gaudier-Brzeska's oeuvre encompasses classical torsos to extremes of abstraction, inspired by an array of influences ranging from Greek, Polynesian and Chinese to Rodin and Brancusi. Over three years, Gaudier-Brzeska produced a remarkable body of work which was to leave an indelible mark on the history of Twentieth Century British Art. At the outbreak of World War I, he enlisted in the French Army but his life was tragically cut short at the age of 23, when he was killed during fighting at Neuville St Vaast.
A hand-bound book, Matka' and Other Writings by Sophie Brzeska, limited to 125 copies, is being launched to coincide with the exhibition. It consists of previously unpublished manuscripts by Sophie Brzeska, written between 1915 and 1918, and covers the period when she met Henri Gaudier, their life together in France and England and frank accounts of the behaviour of his friends after Gaudier-Brzeska's death, among them Ezra Pound and T. E. Hulme.
SCULPTURES PICTURED:
MATERNITY, 1913
Gaudier-Brzeska approached one of art's most well known and emotive subject matters in a totally refreshing way through the sculpture, Maternity. The narrative has been simplified to the bare essentials, as the two enfolding forms tightly interlock, evoking the protective warmth between mother and child.
DOG (DACHSHUND), 1914
Dog (Dachshund) is a rare example of Gaudier-Brzeska's cubist sculpture, which displays his use of geometric line within a semi-abstract form.
-- Ends --
For more information or a gallery catalogue, please contact:
Joanna Wilmot – 0208 996 1801/ 07967 195213/ joanna@josensinipr.com
Omar Jamil – 0208 996 1803/ 07774 900299/ omar@josensinipr.com
About Browse & Darby
Housed in an 18th Century building on Cork Street in the heart of London's Mayfair, Browse & Darby first opened the doors to its venerable and iconic gallery in October 1977. In the three decades since, the gallery has continued to specialise in contemporary British figurative work, as well as dealing in classic British and French paintings, drawings and sculpture. Browse & Darby began as a collaboration between distinguished art dealer and historian Lillian Browse and prominent art dealer William Darby. Lillian Browse retired in 1981 and William Darby has since taken on a consultancy position with the gallery; the gallery is now run by Joshua Darby and Charles Bradstock.
Browse & Darby has grown significantly over the past few years and also regularly exhibits work by esteemed contemporary British figurative artists such as Craigie Aitchison, Dame Elizabeth Blackadder, John Houston, Lucian Freud, Anthony Fry and Euan Uglow. The gallery has recently seen the addition of several exciting new artists, including Endellion Lycett Green, Claudia Carr and Thomas Lamb, and in the coming months, will be showing the works of emerging young artists who trained at the Slade School of Fine Art under Euan Uglow. The gallery acted as Uglow's dealer during his lifetime; Browse & Darby will be exhibiting work by Uglow's students, Robert Dukes and Andy Pankhurst, in solo exhibitions in April and November respectively.
In addition to holding regular exhibitions, Browse & Darby also acts in an art dealer capacity and has been retained to advise on all aspects of collecting art. The gallery also has access to top restorers and conservationists, as well as contemporary and more traditional framers.
Current and upcoming exhibitions:
Robert Dukes – 2nd April – 2nd May (Currently showing)

32nd Annual Exhibition of British & French Paintings, Drawings & Sculpture: 8th May – 13th June 2008

Henri Gaudier-Brzeska: 18th June – 25th July 2008

Contemporary Gallery Artists: 30th July – 12th September 2008