PRESS RELEASE
NEW GRAFTON GALLERY
49 CHURCH RD, BARNES, LONDON
presents

MUNGO POWNEY & SARAH BOWMAN JUNE 26th - JULY 28th 2007
preview June 26th 6-8pm
The New Grafton Gallery welcome you to come and see the work of Mungo Powney and Sarah Bowman this July. After showing very successfully in our 2006 mixed summer shows we are thrilled to show you much much more from both of them.
Mungo Powney is an exciting emerging artist, working primarily in oils on canvas. This show brings together new work including interiors, nudes, landcapes and drawings. These are stong compositions, big hearted and with an exquisite palette. He sees himself in the tradition of the Scottish colourists, trying to feel colour rather than observe it. His influences are diverse from Samuel Palmer to Van Gogh to Leon Kossoff. He paints planning several layers of different colour ahead in order to match the power of colours that he feels. He describes himself as a fan of 'the hard won image' and wants to create an inner light in his work as if the colours are lit from within, very often reworking an image many times until he feels it has a deep visceral energy.
His subjects are diverse but very important to him. He likes to paint things that he knows intimately, that he has lived around and that have had 'a chance to brew a little'. As a result of this many of his paintings, domestic scenes or landscapes, have a great sense of intimacy. He is fascinated by timeless things that are all around us, a woman washing by a window or an evening meal. He is constantly trying to push past the technical or accademic to locate a poetic image .
Mungo Powney has painted on the spot (never from photos) in many places around the world. This brings with it many difficulties and he goes to extraordinary lengths to capture the poetry of a place. One painting in the show is done in the sweltering heat from a central reservation of a motorway in Dubai. He has recently returned from a painting trip to The Yemen where he painted in Sanaa the capital city. The streets are full of beautiful medieval architecture but it was the ordinary life of the people that fascinated him. He worked on the streets by day and on the corrugated iron roof of a grocers shop by night, looking down over the night markets and painting by using a rechargeable torch. The streets and markets were alive into the night and the energy and colour of the local people fills these paintings. Other paintings in the show include many domestic scenes and images of rural France where he currently lives with his wife and child.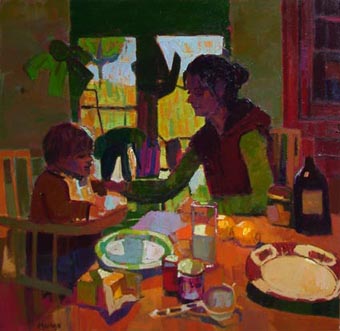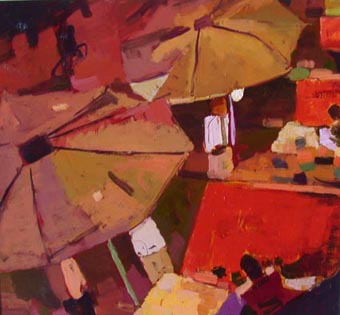 Mungo Powney, Large Composition 'The Midday Meal' 30" x 30" Mungo Powney 'The NIght Market' 16.25" x 15"
Sarah Bowman's reputation is flourishing rapidly and in 2005 was the winner of the Mary Fedden PRWA Award at the Royal West of England Academy. Since returning to the south-west the coast and unique scenery have greatly influenced her recent window series. She fuses distant landscape with still life using flattened tones and a selective palette in a way that is unmistakable to those who know her work.
Sarah Bowmans's paintings give more of a 'sense' of a place than a specific representation - echoing a memory or something that she has been drawn to whilst exploring, for example the plants that cling to the weathered surfaces of stone walls or pebbles and shells she has trawled the beach for. Back in the studio working mainly from photos Sarah will flick through them all and cherry pick certain things. She uses these as a starting point and the rest floods in.
She never begins a painting knowing exactly how it will end up. They start with the landscape and the windowsill or the table emerging later, the objects placed last. Perhaps a curtain will slip in at the side as if a breeze floated in. Each element of the composition is a reaction to the last thing painted. She works on at least four paintings at a time so that they stay fresh.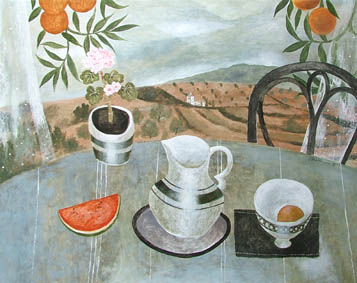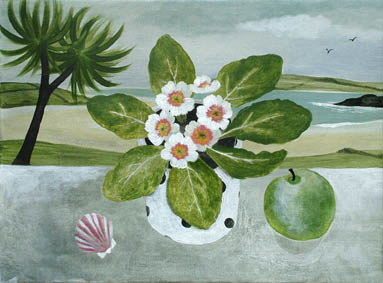 Sarah Bowman 'Parrot Tulips and Cornish Jug' Sarah Bowman '

Pink Shell, Granny Smith

Watermelon and Oranges'