PRESS RELEASE
An Artist's Journey
24th April to 31st May 2008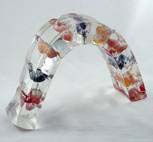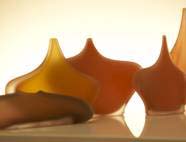 is celebrating the last 10 years of work created by glass artist Adam Aaronson with the solo exhibition An Artist' s Journey. Adam Aaronson has been at the heart of British studio glass for more than 25 years – first as a gallery owner discovering and promoting new glass talent and subsequently as an artist in his own right.
Adam opened his first glassblowing studio in 1986, which marked the beginning of his personal journey as a glass artist, as well as offering both British and international artists the chance to develop their own work through residencies in his studio. Over the last ten years Adam' s work has developed and matured. He has created a number of bodies of work, which are presented in this exhibition, showing his progression from one imaginative and innovative idea to the next. From Coil Pots to Slices and Reeds to Landscapes, Adam is a skilled maker and a truly diverse and talented glass artist.
As an artist Adam is fascinated with the ideas of layers, which is a theme throughout his work over the last ten years.
The artist says: ' With my body of work called " Landscapes", I build up the colour and texture in layer upon layer on the surface using silver leaf and varying sizes of glass powders and frits. With my " Stones" series, I have a layer of colour on the inside and layers of clear frosted glass on the outside, so that there is a feeling of a glass skin, which mirrors the layered structure of real skin'
Stone, Sail, Ripple, Wave is a vocabulary of forms using the ' envelope manipulation' method of glass blowing that Adam pioneered in 2001 and is constantly refining. An early Stone was exhibited at the Cooper Hewitt in New York (catalogue: ' Skin, Surface, Substance and Design', edited by Ellen Lupton, Princeton Architectural Press). A recent donation of a group of Stones to a leading UK cancer charity was auctioned at Christie' s in London and raised substantial funds.
Adam' s work has been exhibited all over the world and can be found in numerous private collections from royalty to rock stars. Major commissions include the Royal Academy of Arts in London, Italy' s venerable Salviati glass studio, and the UK' s National Art Collections Fund. His work has been selected for the prestigious Sotheby' s Contemporary Decorative Arts exhibition in London, and his work is regularly shown at top art fairs in the USA and the UK.
Zest Gallery is internationally recognised as London's destination for contemporary glass. Founded in 2003, Zest brings outstanding British and international glass to a wider audience through an exciting exhibition programme.
The gallery showcases the work of emerging talent alongside established artists who are the best in their field. Zest runs varied and innovative events throughout the year, as well as offering visitors the chance to enjoy a fascinating insight into the skilled process of glass making in Adam Aaronson' s adjacent glass studio.
Entrance to the exhibition is free and all work is available to buy from Zest Gallery.
For images, artist biography or further information on the exhibition, Zest Gallery or Aaronson Noon Glass Studio please contact Nell Reid on +44 (0) 20 7610 1900 or email nell@zestgallery.com
Zest Gallery is open: Tuesday to Saturday, 10am to 6pm
Notes to editors:
Zest Gallery
Zest Gallery opened in September 2003 to exhibit cutting edge contemporary glass art. It showcases the work of renowned glass artists as well as new faces on the scene.
Aaronson Noon Glass Studio
Adam Aaronson' s studio runs half-day glass blowing courses offering an exciting and intensive experience aimed at introducing beginners or novices to the wonders of hot glass. Further information available from nell@zestgallery.com / +44 (0)20 7610 1900.
Adam Aaronson
For more than 25 years, aside from making his own glass, Adam Aaronson has been discovering and promoting emerging artists, including many who are now established glass artists, such as Tessa Clegg, Anna Dickinson and many others. He has always offered residencies and internships to both British and international artists and continues to support new glass talent by working collaboratively with artists, encouraging their use of hot glass in his studio.