Lydia Bauman
IN REMOTE LANDS – Travels through Australia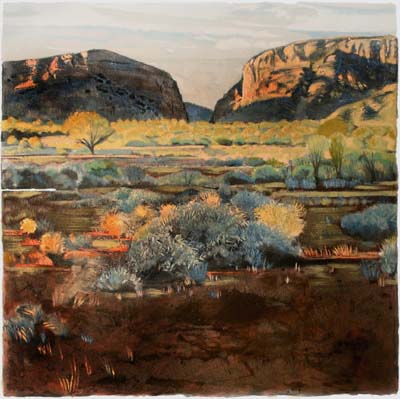 Exhibition dates: 19-24 May 2008
Opening Times: Mon-Sat 10am-7:30pm
La Galleria 5b Pall Mall, Royal Opera Arcade London SW1Y 4UY
www.lagalleria.org T +44(.0)207-930-8069
In 2006 an established British artist, Lydia Bauman travelled around Australia in search of inspiration for her next exhibition. Her aim was to present her own interpretation of the extraordinary - and often extraordinarily beautiful - landscape forms and the specific spirit of the remote continent.
Two years on, her experiences are recaptured in a body of work of extraordinary vividness and vibrancy which, thanks to the support of NRG Consulting, will soon be on show at La Galleria. This gallery - located in London's Pall Mall – will be showing the exhibition from the 19th to the 25th May. If those dates don't suit your calendar, there will be a further opportunity to see these wonderful works between 29th September and 12th October at the West End gallery, Artspace (in Maddox Street, London W1).
Award-winning landscape artist Lydia Bauman has used her richly-textured mixed media technique to capture the huge contrasts in this vast continent, from the aridity and heat of the Outback, to the tropical lushness of New South Wales and North Queensland. Lydia deploys an unusual range of materials in her work, including plaster, resin, wax, sand and a variety of pigments. Painted on large panels ( 4'x4' and 4'x5' )and glowing with colour, these compositions convey effortlessly the grandeur and complexity of this compelling country.
The most familiar of landmarks, such as Uluru (Ayres Rock) seen here in changing light, are given a new, bold and refreshingly immediate treatment which succeeds in capturing the spirit of the place while remaining completely true to Lydia's individual and instantly recognisable style.
Lydia Bauman was born in Poland and has lived in Britain since the age of 15. She is a graduate of the University of Newcastle upon Tyne (BA Fine Art) and Courtauld Institute of Art, University of London (MA in History of Art). She divides her time between painting and lecturing in art history, notably at London's National Gallery. She has had nearly 30 solo exhibitions to date, both in Britain and abroad. Lydia enjoys considerable popularity amongst collectors, and her corporate clients include: Saatchi and Saatchi, Warner Bros, United Airlines, the Dorchester and Gordon Ramsey.
For further information, please contact Neil Ritson Neil@vanguard-energy.com
Or Lydia Bauman lbauman@lineone.net t:01522 527 177 m:07843 181270
Grant Rogers,

Recent Works on Wall Paper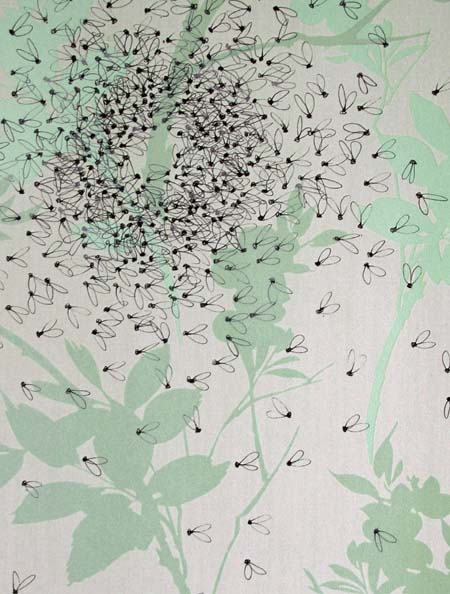 This collection of large-scale works form the core of a new body of work in which Grant Simon Rogers revisits a recent journey around the world's largest Island, Australia.
Rogers is an artist who paints animals rather than an animal artist and his work is often big and sometimes funny and more often than not challenging. His animal studies have always been a metaphor for the absent humans not present in his work. This collection of drawings and mixed media works have tried to fuse not only his interest in scale and medium but the diversity of wildlife to be found on the worlds largest island with this New societies social diversity to be found in the guest house or Hotel chic of Alice Springs, Yulara and Daintree.
On visiting the desert centre Rogers discovered the theme of his work. Flies. Where ever he went he was swathed in a cloud of them. If you step out of a car in Alice Springs or at a fresh water pool off the Larapinta Drive you are never alone. In seconds you are inhaling Australia's constant companion. They are behind your sunglasses. They are in your clothes. While watching a sunset with a golden wedding anniversary couple from Sydney he shared a glass of something bubbly underneath a fly net. The loving couple were busy texting their grand children, sharing their excitement at finally making it to Uluru but had to stop to brush the flies off with their thumb. Once you get over the inevitable panic of being crowned Lord of the flies they, for Rogers started to take on a previously unrecognised beauty.
The drawings are made in different patterns on already patterned wallpaper. The paper chosen reflects the different interior design themes encountered in the motels and Hotels, Kitchens and cafes that Rogers visited. Polynesian shirts, Edwardian Splendour and Far Eastern rain forests all sit uncomfortably next to each other. Paper doilies, tea and beer. Cakes and Burgers all clustered around a highway or way station.
These works take Rogers a long time to complete and are a departure from his vibrant painterly style. He refers to them as his little acts of obsession and uses pens and pencil to create the illusion of shimmering movement. Each drawn fly is an individual with slightly different scale wings, which adds to the claustrophobic illusion of dance and movement. He wants his viewer to be pulled in conflicting directions. Delighted and Horrified. "How can something so unpleasant become so lovely?" For Rogers, this was the heart of his Australia. You have to see it for yourself.