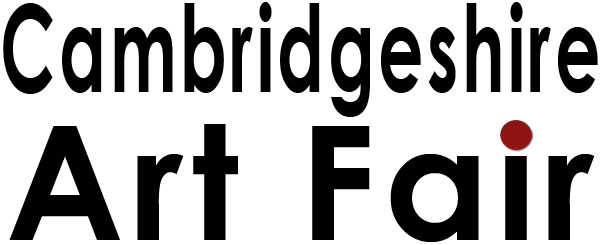 PRESS INFORMATION
Now in its second year, the Cambridgeshire Art Fair returns to Chilford Hall Vineyard, Balsham Road, Linton, this June.
After the resounding success of last year's event the fair has been oversubscribed with more than 65 potential exhibitors looking to fill 47 available stands. This highlights the fact that the art market in East Anglia is thriving and that the region itself plays a huge part in attracting galleries wishing to be a part of this exciting new event.
The final 47 galleries who have been selected for this year's fair represent six nations and four hundred artists from around the world. They will be offering for sale over three thousand artworks in various mediums including: oil paintings, drawings, watercolours, photography, glassware, metalwork, ceramics and stoneware, making this the largest and most diverse sale of original art ever assembled in East Anglia.
Some of the galleries attending this year will be familiar to visitors from the inaugural fair in 2007 including Byard Art and EE Fine Art both from Cambridge. Also returning this year are Art Exposure from Glasgow, Enid Lawson Gallery from London, Galerie de Herkenning from the Netherlands and Monmouth's Gallery Perutz. Notable galleries who are exhibiting at the fair for the first time include: Suffolk's, Aldeburgh Contemporary Arts and Lime Tree Gallery, Morgan Boyce Gallery from Marlborough, Number Nine the Gallery from Birmingham, Wahle Contemporary from Berlin, David Lilford Fine Art from Canterbury, Bell Fine Art from Winchester, The Fine Art Partnership from Brighton and Art Fusion from Warsaw.
This year's fair will again see a wide and varied mix of internationally recognised and highly collected artists, sharing space with those recently graduated or self taught.
With prices ranging from £100 to several thousand pounds, it is a perfect opportunity for visitors to enhance their existing collection or to make their very first art purchase, and for anyone concerned about taking work home a complimentary and professional wrapping service is provided for all artworks sold to ensure safe transportation.
Some notable artists whose work will be shown and offered for sale at the fair include Pablo Picasso, Henri Matisse, Anita Klein, Robert Lenkiewicz, Banksy, Tracey Emin, Sir Kyffin Williams and David Begbie as well as some stunning glasswork from Bertil Valien who has been with Kosta Boda since 1963 and is by far the most internationally celebrated glass artist and designer in Scandinavia. Armando Farina the renowned Italian artist who has work on permanent display in the Vatican Pinacoteca will have a large presence at the fair as part of a year long travelling exhibition to celebrate the artists 80th birthday, and there will also be work for sale by Sir Roger de Grey, president of the Royal Academy from 1984 to 1993.
To open the fair there will be a charity preview evening and drinks reception on Thursday June 5th from 6.30 – 9.30pm in aid of East Anglia's Children's Hospices (EACH), tickets for which are priced at £20 and admit two people with 100% of all ticket money being donated to EACH. Tickets are available at the door or can be reserved in advance at www.artcambs.com. Or by contacting EACH at their offices in Milton on 01223 205194
Chilford Hall vineyard and conference centre is located just outside Linton approximately 8 miles from Cambridge and provides ample parking for several thousand vehicles. Visitors wishing to use public transport can get a train to Audley End and then a taxi to Chilford Hall or from Addenbrookes Hospital Cambridge take bus (No. 13) to Linton. From Linton they should take a taxi to Chilford Hall (about 2 miles) the telephone no. for the Linton taxi service is 01223 890965.
Alternatively there will be a complimentary shuttle bus service from Cambridge train station to Chilford Hall. The bus will depart the train station at 10:30am and 1.30pm daily, returning at 1pm and 6pm Friday and Saturday and 1pm and 5pm Sunday. Approximate Journey time is 20 minutes. There is no charge for this service and seats will be allocated on a first come first served basis. Passengers are advised to arrive early to ensure their seat.
Hot and cold food and drink will be available throughout the weekend at the fully licensed café and bar within Chilford hall and visitors are welcome to view the sculpture garden or go on a vineyard tour whilst visiting the fair.
Press and photographers are invited from 5.30pm on Thursday 5th June for interviews and photo opportunities.
Images for publication are available for download at:-
www.artcambs.com/press.htm
The Cambridgeshire Art Fair, takes place at Chilford Hall, Balsham Road, Linton and runs from Friday, 6th June through to Sunday 8th June. Opening times are from 11am to 6pm on Friday and Saturday and 11am to 5pm on Sunday. Tickets can be purchased at the door and are priced at £5 with concessionary tickets priced at £4. Children under 16 are free if accompanied by an adult.
EXHIBITING GALLERIES 2008:
Accents of Colour - Berkshire
Aldeburgh Contemporary Arts - Suffolk
Alpha Art - East Lothian
Andrew Hood Contemporary Art - Bristol
Art Exposure Gallery - Glasgow
Art Fusion - Warsaw, Poland
Art Interiors - Hertfordshire
Art World Gallery - Worcestershire
Arte in Europa - East Lothian
Artists of Russia - Surrey
Artropolis - Anglesey
Bell Fine Art - Hampshire
Byard Art - Cambridge
Colourbox - Yorkshire
Curwen Studio - Cambridgeshire
David Lilford Fine Art - Kent
Deblon Hungarian Art Gallery - Middlesex
EACH - East Anglia
E E Fine Art - Cambridge
Ealain Gallery - Stirlingshire
Enid Lawson Gallery - London
Four Walls Art Promotion - Brighton
Galerie de Herkenning - Wittelte, Netherlands
Gallery of Hanging Fruits - Suffolk
Gallery Perutz - Gwent
Inspirations Contemporary Art - Kent
Jack Fine Art - Kent
Jo Bennett Original Pictures - Cheshire
Lime Tree Gallery - Suffolk
Linda Blackstone Gallery - Hertfordshire
Meta Contemporary - Herefordshire
Morgan Boyce Gallery - Marlborough
Mulberry Gallery - Berkshire
Neville Contemporary Art - Hampshire
Nicole Langstaff Fine Art - Cambridgeshire
Number Nine the Gallery - Birmingham
Oriel Fine Art - Cambridge
Penley Contemporary Arts - Sheffield
Sea Pictures - London
Seascape Gallery - Surrey
Smith Hanley Collective - Edinburgh
Stark Gallery - London
Steve Marsling Fine Arts Ltd - Lancashire
Tallantyre Gallery - Northumberland
The Fine Art Partnership - Brighton
Wahle Contemporary - Berlin, Germany
Woodbine Cont' Arts - Lincolnshire
LISTINGS INFORMATION:
What:
Cambridgeshire Art Fair 2008
The 2008 Cambridgeshire Art Fair brings together 47 selected galleries from throughout the UK and Europe to offer visitors the opportunity to invest in the widest range of quality original art ever to be shown under the one roof in Anglia.
Representing work by hundreds of artists and attracting dedicated art collectors and occasional buyers alike, the Cambridgeshire Art Fair is the best place to be this summer to admire, invest in and enjoy all kinds of art.
Where:
Chilford Hall, Linton, Cambs, CB21 4LE
When:
Thursday 5th June – Sunday 8th June 2008
Thursday 5th June – Charity Preview Evening
6.30pm - 9.30pm Tickets available at the door or by invitation
Friday 6th 11am – 6pm
Saturday 7th 11am – 6pm
Sunday 8th 11am – 5pm
Tickets:
Adults: £5.00 / Concessions £4.00
(Tickets available at door)
Children under 16 FREE (if accompanied by an adult)
Group rates available (in advance only)
Advance tickets available to buy by telephone +44 (0)1875 819595 or online at www.artcambs.com
Facilities:
Café & Bar
Sculpture Garden
Vineyard tours
Information:
www.artcambs.com
Contact:
enquiries@arteineuropa.com
Tel: +44 (0)1875 819595
Event organisers:
Arte in Europa, 77 Poplar Park, Port Seton, East Lothian, EH32 0TE