The Garden Gallery
Rookery Lane, Broughton, Stockbridge, Hampshire, SO20 8AZ
Tel: 01794 301144
PRESS RELEASE
SUMMER EXHIBITION 2008
Glass for the Garden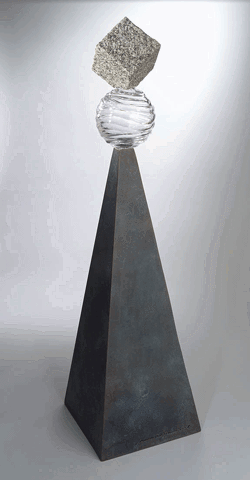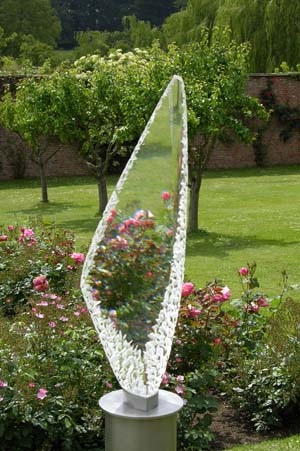 Pyramid, Sphere Cube by Johannes von Stumm FRBS (bronze, glass, stone) Defining Significance I by Sally Fawkes (cast, engraved glass)
Glass sculpture in the garden has much to recommend it. It reflects the light and nearby plants and trees, harmonises with water and sparkles on sunny, frosty mornings. Glass is a robust medium which withstands harsh weather conditions and is easy to maintain, just needing an occasional wash. This summer, as part of its annual Summer Exhibition, The Garden Gallery will feature a special focus on glass sculptures for gardens. Exhibiting artists will include Richard Jackson and Sally Fawkes, Johannes Von Stumm FRBS, Peter Newsome ARBS and Tracey Sheppard FGE.
Work by regular gallery artists will also be on show in the gallery's lovely garden. Those exhibiting at The Garden Gallery for the first time this year include Penelope Batley with her very distinctive and original garden vessels, Martin Cook with his individually designed tables and benches in stone and wood, exquisitely inscribed with verse, and Nicola Henshaw, whose sculpture and furniture, carved from European hardwoods, is inspired by myths and fables.
The exhibition will run from Saturday 10 May (Private View 11- 5) until 26 July, on Saturdays, Tuesdays and Thursdays from 11 – 5. The Garden Gallery is open by arrangement at all other times. For further information and photographs (which can be sent digitally) contact Rachel Bebb at The Garden Gallery.
Rachel Bebb, MA, FRSA
Garden Designer
Vat. No. 717 8531 18