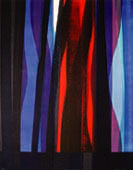 Curwen 50th Anniversary
26 March - 19 April 2008
Private View Tuesday 25 March, 6-8pm
Thanksgiving Service at St Giles-in-the-Fields, Thursday 10 April 11.30am
Gallery talk by Stanley Jones, Master Printmaker, Tuesday 15 April 6.30pm
The Curwen Studio was first set up in 1958, after its initial beginnings as part of the Curwen Press. This year the gallery celebrates 50 years of Curwen with an exhibition of lithographs made in the studio throughout this time. The exhibition includes prints made during a variety of periods at the Studio; from its early days producing work by Ceri Richards, Barbara Hepworth, John Piper, Elisabeth Frink, and Henry Moore, through to the present day, showing prints by artists who produce their work at the studio now.
This exhibition serves not only as a celebration of the 50 years gone by, but also as an acknowledgment of the studio's constant progression in printmaking and its achievement of maintaining the high level of quality work produced under Curwen's name.
When the Curwen Studio began, Stanley Jones was chosen to run the studio as the Master Printer and Director. Stanley bought with him influences from his time spent printing with Hayter in France and, with the Curwen, embarked on a revolution in Art lithography. The key element to this was that the artist and printer worked together. Stanley's time spent working alongside artists at Curwen provides him with fascinating stories, and Stanley will be talking about the Curwen Studio during the exhibition on 15 April.
John Hoyland RA has produced a new lithograph, in a limited edition of 50, to commemorate Curwen's 50th Anniversary. This print, along with new lithographs by Diana Armfield RA, will be launched at the exhibition.
Image: Stanley Jones, Lunar Sound, 1973, lithograph, ed 75, 71 x 54cm
For further information, or a catalogue of selected works from the exhibition, please contact Natalie Suggitt by email, natalie@curwengallery.com or tel 0207 323 4700
CURWEN & NEW ACADEMY GALLERY
Business Art Galleries
34 Windmill Street, London W1T 2JR
Open Mon-Fri 10-6 (Thurs 10-8) Sat 11-5
T:0207 323 4700
visit www.curwengallery.co.uk for more info
Current Exhibitions:
BRENDAN HANSBRO &JONATHAN CHAPMAN
28 Feb - 20 March
(Please note exhibition closes early at 6pm on Thurs 20 March)
http://www.curwengallery.co.uk/gallery/gallery.htm