CHRIS ORR, RA
'Cities of Holy Dreams'
17 APRIL – 18 MAY 2007
Jill George Gallery is delighted to announce the latest exhibition by Chris Orr, who has been showing at the Gallery since its foundation. This exhibition is his first solo show in two years and will present a selection of new drawings and prints.
This exhibition will concentrate on images of the modern city, which has assumed a more important place in his recent work. More specifically, Cities of Holy Dreams will contain images of four cities that have attained pivotal significance in the twentieth century as exemplars of rejuvenation and resurrection after catastrophe: Dresden, Hiroshima, London and Nagasaki.
Orr's fascination with the rise and fall of cities, their fortunes and constantly changing skylines, has him exploring London, possibly the current cosmopolitan world capital, Dresden – once firebombed but now prosperous - and the Japanese sites of the atomic explosions. The tragic histories of Dresden, Hiroshima and Nagasaki have been overlaid but not obliterated by brightly reconstructed modern centres. London, despite continuous growth and lavish metropolitan development, underwent massive bombing during WWII, and this has become an integral part of its modern identity.
Born in London, and having spent his life here, Orr has long made this city central to his work. Earlier images saw him portraying the people and life in the capital like a modern Hogarth, with their social foibles and absurdities humorously exposed. Previous drawings of London have occasionally incorporated historical elements into the teeming modern metropolis, with medieval, Shakespearean and Victorian characters mingling together on Waterloo Bridge, reflecting the mixture of history and modernity that characterises the city. Some of the latest drawings were made from high viewpoints, with much of the human interaction that characterised earlier work becoming therefore less visible, and the teeming, pulsating architecture of London revealed as a growing, organic mass.
But for this artist, architecture always remains as a symbol for the people within. As buildings ludicrously compete for greater skyline dominance in major cities, they mirror the lives, ambitions and strivings of their populations. After all, it is these people who survive catastrophes to rebuild destroyed cities and shape their futures. Given current history, this work stands as a hopeful reminder that a tormented place like Baghdad, for example, will one day reclaim its rightful place as a peaceful and prosperous cultural centre.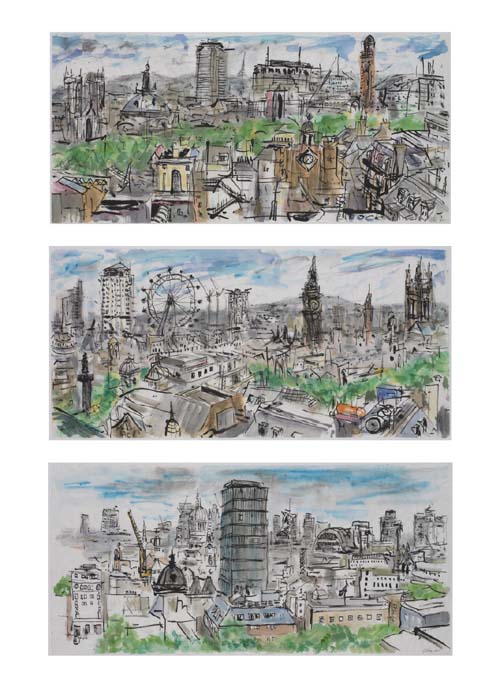 Notes for Editors
Born in London in 1943, Chris Orr studied at Ravensbourne College of Art (1959-63), Hornsey College of Art (1963-4) and the Royal College of Art (1964-7). He was elected Royal Academician in 1995 and appointed Professor of Printmaking at the Royal College of Art in 1998. He is one of this country's leading printmakers who has mastered all aspects of printmaking, having an encyclopaedic technical and historical knowledge of the medium.

His work has been exhibited in solo exhibitions over the last 30 years throughout the UK, Europe, USA and Japan; and in numerous international group exhibitions.

Chris Orr's work can be found in many public collections, including the Victoria & Albert Museum, British Museum, Royal Academy of Arts, Museum of London, Government Art Collection, Science Museum, British Council, Arts Council England, Welsh Arts Council, Ulster Folk and Transport Museum, National Railway Museum and the National Gallery of Jamaica.

The Private View for this exhibition will be at Jill George Gallery, Lexington Street, Soho on Monday 16 April 2007 from 6-8.30pm.

Jill George Gallery began by exhibiting the work of recent graduates and new artists and now shows selected painting and sculpture from a roster of international artists.
If you require any further information or images please contact Jill George Gallery on 020 7439 7319 or email press@jillgeorgegallery.co.uk
Jill George Gallery is open weekdays 10am – 6pm, Saturdays 11am – 5pm, Thursdays until 8pm. www.jillgeorgegallery.co.uk