Easter in Edinburgh – Thai Fine Art Ltd's spring show in the Dundas Street Gallery.
Thai Fine Art Ltd., the Edinburgh-based online art gallery and shop founded and directed by the young art historian and entrepreneur Victoria Khunapramot, will showcase their dynamic, professional, contemporary Thai painters from Bangkok and Chiang Mai from Tuesday 3rd to Wednesday 11th April, 2007, at the Dundas Street Gallery in Edinburgh's New Town. The Dundas Street Gallery has already hosted two very successful Thai Fine Art summer shows over the past two years, each one immediately preceding the highly prestigious Edinburgh International Festival. 2007 will uphold this young tradition with a short Dundas Street exhibit on July 22nd to 25th, complemented by the longer April show and concluding Thai Fine Art's Edinburgh appearances with their Edinburgh Art Fair participation on November 23rd to 25th. This year is indeed unprecedentedly busy for Thai Fine Art: three shows in the Republic of Ireland (Dublin and Cork), others in Manchester, Birmingham, the English Midlands, London – a full exhibition calendar testifies to the growing popularity of the exceptional artists that Thai Fine Art Ltd has been introducing to the British and Irish public in person and to the world over the Internet for only a few short years since the gallery's inception in 2004.
Thai Fine Art Ltd's offering includes modern interpretations of traditional Thai themes, contemporary and abstract acrylics, Buddhist images and much more, all of which are purchased personally by the gallery from talented, young, professional painters living and working in Bangkok and Chiang Mai. The vibrant expression of these dedicated artists struggling in a developing economy to express themselves, their faith and their heritage through their art appeals to an ever-increasing and appreciative international public.
Lynchpin of Thai Fine Art Ltd's collection is the unique fusion style of Kitti Narod, whose Thai imagination draws on Australian aboriginal techniques to create buoyant compositions that intrigue the mind and delight the eye. Kitti handles a vivid tropical palette as masterfully as more muted, misty tones as he dips into forest, flower or seascape scenes enlivened often by creatures great and small in his delicate, intricate compositions. Abstracts and collage complement Kitti's varied offering, which is studied in a rare English publication dedicated exclusively to this artist and his place within the contemporary Bangkok art scene.
Kitti Narod's work currently hangs in galleries and homes throughout the UK, in Ireland, Canada, Australia, Venezuela and his native Thailand. Amongst other Thai Fine Art featured painters, Bunpan, whose modernised traditional Thai themes sell well for the gallery, was recently engaged in painting murals for the new Bangkok International Airport, whilst Sittidech's delightful cats and dogs hang in private collections in Italy and Australia as well as in Thailand, the Republic of Ireland and the UK. Conservation concerns reinforce the appeal of Thai Fine Art Ltd's elephant painters – not painters depicting elephants but rather elephants themselves, living under the care and protection of Northern Thailand's elephant conservation parks, that paint flowers, trees, dot and line compositions and even portraits of themselves and other elephants. Thai Fine Art Ltd buys these tempera on paper works directly at full price from the conservation camps where the paintings are joyfully created before the eyes of a delighted public during the elephants' twice-daily shows. This income helps provide for the elephants' food, shelter and medical care, which adds to the enjoyment of the paintings' ultimate purchaser, be they in Britain, Europe or anywhere worldwide within e-mailing distance of the Thai Fine Art Internet Gallery and online shop.
Visiting a Thai Fine Art exhibit, where east meets west in a harmony of luminescent colour, is a refreshing, stimulating experience, a delight to the heart, mind and eye, and definitely not to be missed.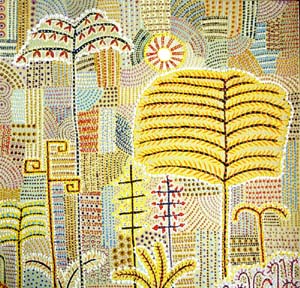 Kitti Narod Living with Fern 2006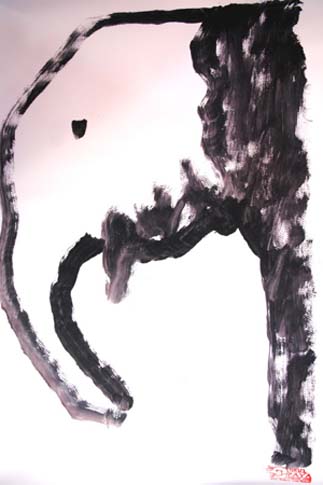 Phaya the Elephant Self Portrait 2006