THE STOUR GALLERY
Exhibition 8 March – 5 April 2008
New Paintings by JESSICA COOPER RWA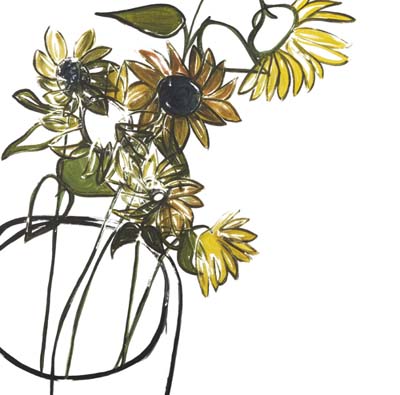 Cup-cakes on a plate, plums in a white bowl, a house on a bare hill or a solitary white chair in a darkened room – Jessica Cooper's spare, apparently laconic images, often no more than a cluster of painted lines drawn on an otherwise empty white canvas make for arresting, almost graphic, singularity that immediately demands our attention. But, unlike so many attention-seeking people or objects in real life, the "conversation" we then proceed to have with these paintings turns out to be a great deal more interesting and illuminating than anything we could possibly have imagined, these simple, almost everyday and often remarkably ordinary objects and landscapes somehow becoming invested with a density of significance that their wittily tangential titles serve both to underscore and make even more ambiguous still. The cup cakes, for example, are entitled Solidarity, the chair I'm glad you stayed, the house on the hill Those old familiar places, in the process of naming the artist making it quite clear that these paintings are the 'containers' of a whole range of intensely personal feelings, emotions and memories.
They are also very much about a sense of place; having been brought up and spent most of her early life in a remote hamlet perched between the moors and rugged cliffs of North Penwith in the far west of Cornwall and now living, with a young family of her own, just a few miles down the road from there, the place is very much in her blood. Quite simply such knowledge gives her the courage to deal in the understated and easily overlooked aspects of an often overwhelmingly imposing and dramatic landscape (and, it has to be said, with the district now awash with artists, visually cliché-ridden also!) with the kind of minimalist boldness that becomes such an innate part of their touching and thoughtful power. Thus, if questioned as to why the sea seemingly never makes an appearance in her paintings, she answers, with absolute truth, that it is everywhere in the paintings – not only in the dark horizons of Finding You and Those old familiar places but also in those luminous white voids of canvas that lie behind such still-life subjects as Bare faced boredom and Driven White. In the same way there are no figures in any of the paintings; there is no need, for human lives and relationships are felt everywhere in these works. For this she feels she owes much to her training in the printmaking department at Goldsmiths, the layering and taking off of surfaces involved in screen-printing particularly, having much to do with the kind of intuitive paring down of images here. In her subtle hands less thus really does become very much more, the objects a quietly poetic metaphor for human existence.
Nicholas Usherwood Writer and Curator
New Ceramics by JACK DOHERTY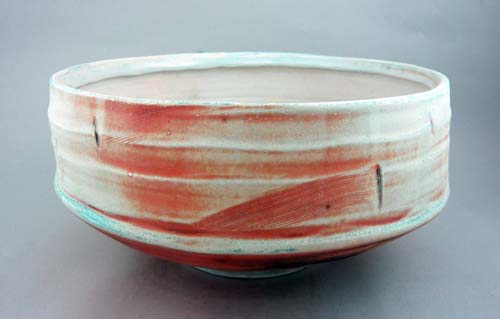 Jack Doherty is one of Britain's most respected porcelain makers. He trained at The Ulster College of Art and Design. His early work with Kilkenny Design Workshops, Ireland, won him gold medals at the international exhibitions in Faenza and Vallaurius. He has been in his present studio in Herefordshire since 1983, producing work that has been exhibited and collected throughout the world. He has recently been appointed "Lead Potter" at the newly refurbished and re-opened Leach Pottery in St. Ives, Cornwall.
Jack uses porcelain in a very personal way, exploring the sensual qualities of a beautiful material. He starts to throw a piece and, when it has taken on the rough form of a bowl or a vase, he will add coloured clays (stained bodies of porcelain) and continue the throwing process, thus stretching and blending the new clay with the original piece. Each pot is soda fired. This entails blowing a mixture of bicarbonate of soda and water into a white hot kiln, giving an element of chance and relaxing control over the look of the final piece. This way of soda firing leaves each piece with an individual trace of vapour and flame.
New Jewellery by GEORGIA STONEMAN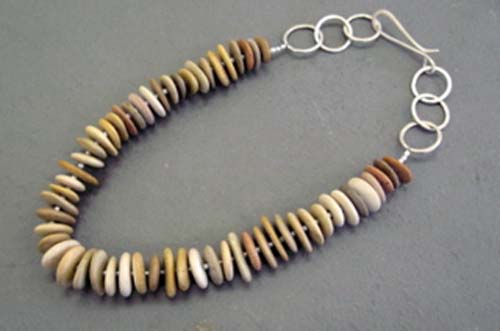 Stour Gallery artists include:
Jo Ashby, Peter Blake RA, Sandra Blow RA, John Emanuel, Antony Frost ARE, Terry Frost RA, John Hoyland RA,
Bruce McLean, Breon O'Casey, Michèle Griffiths, Tony O'Malley HRHA, Jane O'Malley, Bryan Pearce, Ceri Richards,
Neil Canning, Janette Kerr RWA, Margaret McLellan, Simon Pooley, Simon Quadrat RWA, Geoffrey Robinson,
Penwith and Newlyn Societies. Extensive collection of ceramics, sculpture and jewellery.
Please visit our website: www.thestourgallery.co.uk
The gallery is open Monday – Saturday 10am-5.30pm or by appointment
The Stour Gallery 10 high Street Shipston on Stour Warwickshire CV 36 4AJ
Tel/Fax: 01608 664411 Email: info@thestourgallery.co.uk