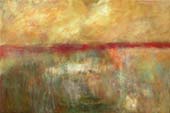 Press Release
Robin Richmond
Landscape Mysteries
30 January – 23 February 2008
Artist's Talk Thurs 21 February 6.30pm
The exhibition will be opened by Lord Coe
at the Private View on Tuesday 29 January 6-8pm
Landscape Mysteries will be Robin Richmond's 24th one woman show and her 6th with Curwen and New Academy Gallery. The inspiration for these new paintings is strongly rooted in landscape and yet demonstrates a distinct loosening in her imagery and formal handling of the paint since previous works. A rich depth of colour, light and texture within the work creates a powerful and atmospheric sense of space, within which the viewer can find their own meaning.
Richmond says "A seam in the painting might be a horizon or just a beautiful, fizzing line." She notes that there has been a technical and emotional change in the paintings and that
"The paintings are less about telling the viewer a story - my story - than loosening the narrative shackles and letting you, the viewer, free inside the space I have made."
In the early part of her international career Robin Richmond was a noted portraitist and her paintings focussed on the scrutiny of the "real", celebrating the observed; whether in human, animal or landscape form. The figurative element was central and highly emphasised, with a strong narrative. Gradually, over the last 20 years, a gradual shift in focus and emphasis has been palpable in the paintings with a less constrained handling of her main subject - a study of Nature in all her glorious manifestations; meteorological, archaeological, geological, and historical. Richmond's work has long teetered on the edge of abstraction and transcription, gaining power from this very rich internal tension, and giving free reign to her celebration of colour and texture, but this show marks an important shift in mood.
If you would like further images or information, please contact Natalie Suggitt by email Natalie@curwengallery.com,
or tel 0207 323 4700.