PRESS RELEASE



Indian Culture and Artistry has come to the Heart of London

Welcome to the Shades and Wood Gallery based on Kensington Church Street. An amazing collection of paintings by Renowned and Emerging Indian Artists.

Exhibition starting from 1st December 2006, Monday –Saturday 9am to 6pm.

Shades and Wood Gallery is extremely proud and excited to exhibit the paintings by Manohar Chiluveru, an Indian Artist who has aquired fame in India through the many prestigious awards he has won and having been featured in the Limca Book of Records 2003 for painting the largest canvas on environmental protection and world peace. Has had more than 10 solo exhibitions in India and one exhibition in London.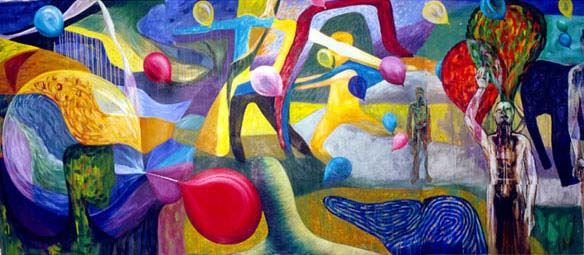 Celebrations by Monahar Chileveru


Concept of the Artist

The basic premise with which he explores his creative possibilities stems from his quest as to how nature, myth, history, and social reality stimulate contemporary visual culture and influence art. Manohar searches for a solution to this by responding to each of these categories through his art. Manohar's concept is that:
Nature:Understanding and appreciating the laws of nature is the only way towards attaining a greater harmony with nature and realizing ones own spirituality. When this idea is reflected in art it can reach out to people across all cultures.
Myth is a product of human fantasy, fear and faith. Some myths spring forth from the collective unconscious while some are very private and personal. Art offers a platform to externalize these myths and fantasies.
History informs us about various facts of human society from different times. What we learn from history about human society is crucial in understanding contemporary visual culture.
The opposing tendencies of fact and fiction, that is, history and myth, nature and culture is interesting as they are paradoxical and enigmatic, and it is at this point that his visual journey begins in a quest for knowledge, wisdom and spiritual enlightenment in relation to these factors.

Vision and Objective of the artist
To convey the act of art as the sense and essence of life from which we can discover inner energies and consequently spiritual enlightenment.
 
To experience and focus on the idea of the physical process and creation of making art rather than the finished result. In other words, regard the creation of the art piece as the art piece itself rather than the finished product.

To bring art to a wider audience and convey to the public the beauty of life and nature through art and how it is juxtaposed.

To interact with different cultures and sectors of people worldwide.
 
To convey through art the notion of travel and the diversity of cultures, and how this manifests itself through his live painting.
 
To provide the public an opportunity to see the artist at work.

the Artist

Manohar was born in Warangal, Andhra Pradesh, India in 1970. He did his Bachelor of Fine Arts in sculpture at Jawaharlal Nehru Technological University from 1991-1996 and then his Masters in print making at the University of Hyderabad from 2001-2002. He has held many solo and group exhibitions in major metropolitan centres in respected galleries throughout India and won several prestigious awards.   His works are in private and public collections in India and abroad. 
 
The sculptures and statues of the great Kakatiya dynasty of his hometown inspired him at a very young age. This influence has stayed with him throughout his childhood. When he started going to art school, he learnt about great masters of art. His understanding and perception of art began to evolve and change, challenging his ideas and
notions of art and setting the foundations from which he began to work as an artist.
 
For further information, please contact

Khozema Patanwala : Tel 02079381852 Mob 07863382118
Juzer Kimti : Mob 07712006762

Shades and Wood Gallery, 77 Kensington Church Street, London W8 4BG