Press Release From:

emma mason

British Prints

www.emmamason.co.uk




A Celebration of British Printmaking
Thebes Gallery, Lewes, East Sussex. 29th Nov–16th Dec 2007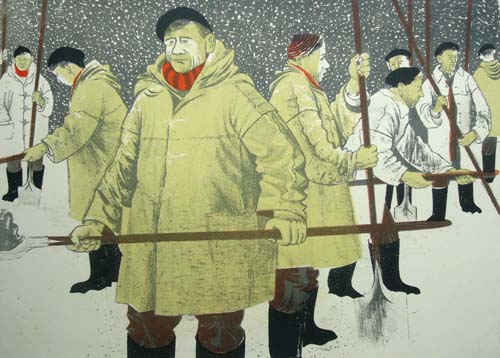 "Clearing Snow" A/P 1956 by Robert Tavener
A Celebration of British Printmaking is an exhibition, which brings together a wide variety of renowned printmakers' work from 1950 to present day. The skill and craft of British printmaking can be seen at its best with original prints including linocuts, lithographs, screen prints, wood engravings and etchings.
The printmakers represented are all from a generation of British printmakers committed to the art of printmaking. Many were lecturers in the printmaking departments of Art Schools around the country, working over the last 50 years. They include Robert Tavener at Eastbourne and St Martins, Geoffrey Elliott at Brighton, Richard Vicary at Epsom and Shrewsbury, Richard Beer at Chelsea, Garrick Palmer at Winchester, Edwin La Dell at the Royal College.
The exhibition is organised by Emma Mason British Prints who specialise in original prints by British Printmakers. There is a particular emphasis in raising awareness of superb printmakers whose work is often overlooked. Many of the prints have come directly from the studios of the printmakers, and are what remain of the portfolio of work by the printmaker.
All work is for sale. There will be framed and unframed work available.
The Thebes Gallery is situated just of the main high street in Lewes, with many shops and restaurants nearby. Lewes is easily accessible by train from London and Brighton and the gallery is a 5 minute walk from the station. Lewes itself is a beautiful town set in the heart of the South Downs.
Thebes Gallery
Church Twitten (Behind Lewes House)
Lewes, East Sussex. BN7 2LA.
Exhibition dates: 29th November – 16th December 2007
Open daily 10.30am–5pm (Sun 12–5pm)
Gallery Tel. 01273 484214
www.emmamason.co.uk Tel. 01323 413555 sales@emmamason.co.uk