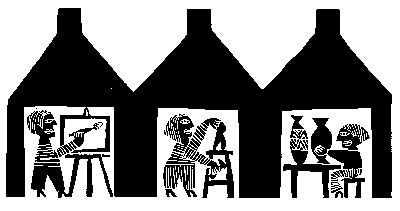 PRESS RELEASE - EAST NEUK OPEN STUDIOS
24-25 November and 1-2 December 2007
For the fifth year in succession, over thirty professional artists in the East Neuk of Fife invite members of the public to visit them in their studios. Following the success of the event being spread over two weekends in the summer, the studios will be open for two weekends this Christmas.
All the artists will be in their studios, happy to discuss their work and their techniques, and work will be for sale.
The studios are all within a short distance of the beaches of this historic area of Scotland, some of them overlooking the sea.
Works include paintings, drawings, prints, ceramics, glass art, etchings, illustrations, jewellery, weaving, postcards.… Examples of all the artists' work, together with their contact details, can be seen on our re-built, easy-to-use, web-site (www.eastneukopenstudios.org)
For copies of the Open Studios' free brochure, containing illustrations of each artist's work, and including maps of how to find the studios, or for other information, contact:
Jo Whitney
01333 730249
A CD of artists' images is available on request.