The Countryside Exhibition
The Air Gallery, Mayfair
26 November - 1 December 2007
Patron: The Hon Mrs Charlotte Townshend
Dorset Artists Katie Scorgie, Jo Burchell and Robert Mileham bring their individual talents to Mayfair's Air Gallery, in Dover Street for their first joint London Show next month. The Countryside Exhibition is a show where the elements of Oil, Wire and Bronze dominate. From Katie's vigorous colour and black and white oils, Robert's contemporary figurative and animal bronzes to a new exploration of the countryside through Jo's barbed wire sculptures, all portray themes and images of the natural world.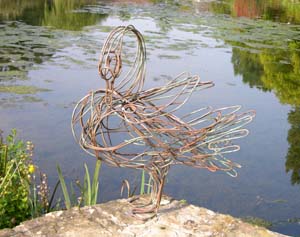 "It is that feeling of animals – their energy and poise that her life-size sculptures capture. Using old unwanted barbed wire and steel rods she draws through and around the form, linking the internal shapes of muscles and sinews.Figurative but with a looseness of marks, they don't impose on their surroundings, rather they emerge with a transient quality, as if you had stumbled upon them in the woods"
from Farmlife on the work of Jo Burchell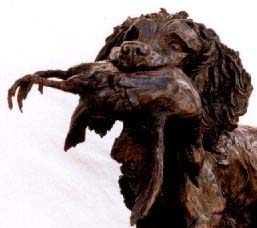 "Why do I sculpt? I simply love it. I just have to recreate life as I see it. Sculpture is in our time and place. It exists; it is more than an image. You should engage with it, touch it and see it from all angles.
It has the advantage of presence" Robert Mileham
"If someone can stand in front of a painting of mine and feel as if they are in that place at that given moment – then that is what I am aiming for" Katie Scorgie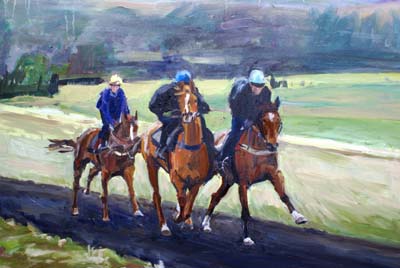 SELECTION OF EXHIBITIONS & AWARDS

KATIE SCORGIE

Equestrian Paintings.
Jul 07 Summer Exhibition – Ashley, Newmarket, Suffolk
Jul 06 SEA Annual Exhibition – The Mall, Galleries, London
May-Jun 06 Dorset Art Week, Child Okeford
06 www.art-works-uk.com – exhibiting through this gallery
Jun 05 SEA Northern Annual Exhibition – Gallery 42, Tadcaster
Jun 05 SEA Annual Exhibition – The Mall Galleries, London
Apr 04 Chome Fine Art, 4 George Street, Bath Equestrian exhibition
Aug 03 SEA Annual Exhibition – The Mall Galleries, London
Jun 03 The Mall Galleries
Finalist – 2003 The Daily Mail's 'Not The Turner Prize' Competition
May-Jun 04 Dorset Art Week, Hinton St Mary
Dec 02 The Osborne Studio Gallery, Motcombe Street, Chelsea Christmas Show
Nov 02 Charity Countryside Art and Sale Exhibition, Lawrences,
Crewkerne (organised by The British Sporting Art Trust and Macmillan Nurses) Awarded 'Chairman's Choice'
Oct-Nov 02 Reed Hall, Exeter University, Solo Exhibition
Jul 02 SEA Annual Exhibition – Christie's, London
Jun 02 Everett Fine Art, Wellington, Somerset
May-Jun 02 Dorset Art Week, Hinton St Mary
01 SEA Annual Exhibition – Christie's, London
00 SEA Annual Exhibition – Christie's, London
JO BURCHELL
Painting, Drawing, Sculpture And Mixed Media
SELECTION OF EXHIBITIONS
1993 Art in Action, Oxford
1994 Arte Viva 94, Senegalia, Italy
1995 United Artists , Westminster
Five Woman Artists Plus
2004 Guggleton Young Artists, Stalbridge, Dorset
Art @ Plush, Dorset
ARTITUK, Dorset
2005 Guggleton Young Artists, Stalbridge, Dorset
2006 "It's a Dogs' Life!", First View, Stour Head, Wiltshire
Art Source
Dorset Art Week
Open Gardens and Sculpture Exhibition, Pitt Rivers, Manor House, Dorset
ROBERT MILEHAM
Sculpture
SELECTION OF EXHIBITIONS & AWARDS
Awarded The Peoples Choice for Ice Breaker at William Herschel Sculpture Competition 2005
Awarded Highly Commended for Speck at AFAS Mall Galleries 2006 by Kate Adie
Dorchester 1999
Badminton 1999
Burghley 1999
Dorchester 2000
Pangbourne 2001
London 2002
London 2003
Athelhampton 2003
Bournemouth University 2003
Moigne Court DAW 2004
Art In The Garden 2004
Art@plush 2004
Art In The Home 2004
Dorchester 2004
Art Poole Quay 2005
Lilliput 2005
Blandford Forum 2005
SWCAF Exeter 2005
William Herschel Museum
Heavenly Bodies Competition
Bath 2005
Art Poole Quay 2006
AFAS Mall Galleries London 2006