MODERN BRITISH ARTISTS
Specializing in 20th Century British painters, printmakers and sculptors
P R E S S R E L E A S E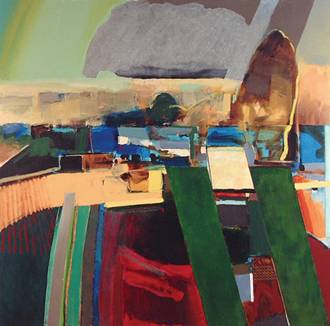 DAVID PRENTICE
Landscape Paintings
3rd - 25th November 2006
MODERN BRITISH ARTISTS is proud to present an exhibition of major new works by the
internationally acclaimed Malvern based artist David Prentice.
Over the past two decades Prentice has built up a considerable reputation among critics
and collectors alike for his richly coloured and highly atmospheric paintings. During this
time he has won a number of significant prizes, including the prestigious Singer &
Friedlander / Sunday Times Award no less than three times.
Born in Solihull, West Midlands in 1936, Prentice initially studied at Moseley School of Art
before moving to Birmingham College of Arts & Crafts in 1952. He won the George Jackson
Travel Scholarship in 1956 and between 1957-59 he performed his National Service in the
Royal Artillery. On his return to Birmingham he started to teach at Birmingham College of
Arts & Crafts and Mid-Warwickshire School of Art, going on to assume the role of Senior
Lecturer at a number of colleges throughout the Midlands. In 1964 he became a co-founder
and director of the pioneering Ikon Gallery, which recently celebrated its 40th anniversary
and today still remains one of the country's most significant independent contemporary
galleries.
Prentice has had over 40 one-man shows since 1961 and taken part in literally hundreds of
mixed exhibitions. His work can be found in many major public, corporate and private
collections, including the Victoria & Albert Museum, London, Albright-Knox, Buffalo, USA
and Museum of Modern Art, New York.
Prentice's work has a technical brilliance that owes a great deal to his profound knowledge,
love and understanding of the landscape in which he has lived for some twenty years. Now,
in what marks something of a return to his progressive and modernist roots of the 1960s
when he was painting in an abstract non-representational vein, he has produced a new
series of twenty-five major works. Whilst these paintings, ranging in scale from 15" x 15"
right up to 58 inch-square canvases, are all still based on the landscape, he treats the
subject in a tough and lyrical semi-abstract way that takes his art forward in a powerful and
significant new direction.
For further information or to request high resolution images please contact
Mark Barrow (Gallery Director) 0207 487 3500
info@modernbritishartists.co.uk www.modernbritishartists.co.uk
49 Chiltern Street, Marylebone, London, W1U 6LY
Mark Barrow - Director
MODERN BRITISH ARTISTS - specializing in 20th century British painters, printmakers and sculptors - with an emphasis on art of the 1940s, 1950s and 1960s

49 Chiltern Street, Marylebone, London, W1U 6LY
+44 (0)20 7487 3500
+44 (0)7790 802146
info@modernbritishartists.co.uk
www.modernbritishartists.co.uk

Gallery opening hours - Mon-Sat 11am-6pm (by appointment at all other times)