The SW1 Gallery is delighted to announce the first major London exhibition of superrealist painter Nathan Walsh. These stunning large scale cityscapes explore the vitality of New York, the grandeur of Verona and the serenity of Prague.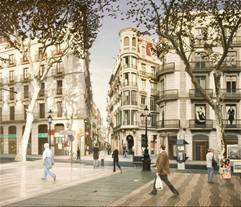 The result of the last three years work Walsh's paintings are ambitious in range and complexity. We will also be exhibiting the artists' preparatory drawings and sketches documenting his elaborate methods.
'Nathan Walsh belongs to a new generation of artists who are extending the boundaries of realist painting. His paintings demonstrate an ambitious project of combining photographic source material with the traditional skills of the representational artist. This is not easy painting but the bracing clarity of his work and the satisfaction we can derive in spending time with it shows a significant achievement.' Clive Head 2007
The SW1 Gallery, situated a short walk from Victoria Station, is a large exhibition space born out of the close working relationship between the developer, Land Securities and Westminster City Council. Bright and contemporary in feel, the gallery looks out on to Cardinal Place Roof Garden and provides a centrally located and exciting addition to Westminster's cultural community.
The exhibition will be launched with a private view on November 1st, opening to the public on November 2nd and will run until November 23rd. The gallery is open Tuesday to Saturday 10am -4pm and closed Sundays and Mondays.
A fully illustrated colour catalogue with introductory essay by Michael Paraskos is available on request. Image files are available in your desired format.
Contact: Heidi Hazeu
Location: SW1 Gallery
12 Cardinal Walk
Roof Garden Level
Cardinal Place
(Off Victoria Street)
London SW1E 5JE
Telephone: 020 7963 4024
Website: www.sw1gallery.co.uk
Email gallery: heidi.hazeu@landsecurities .com