Press Release
DOOMBAD IS BACK AGAIN — Paintings in oil and watercolour
Christiane Sasportas at Aldeburgh Gallery Oct 18 – 28 2007
Christiane Sasportas produces a new and unique art form: a metamorphosis of painting and cartoon, story and illustration. In this exhibition 3 new Doombad books are being shown for the first time: "Doombad in the Light of Day" — 110 oil paintings, framed and unframed; "Tree-he" — 14 watercolours, framed in museum glass, and "The Art of Doombad" — 21 oil paintings.
Doombad's life of melancholic ease changes utterly when she is sent to a far away city to become something, after she rejects all the suitors in her village. The perturbed suitors: Parrotox and Tree-he, do their utmost to find her. A compelling atmospheric portrayal of life through the eyes of the un-socialised, unclothed girl, whose dress is her live companion through the early ordeals in the city. The operatic intensity of Doombad in the Light of Day with its changing stage sets, and set against the shifting backdrop of Doombad's groping perception, is an opera of the soul. Paintings of exquisite spontaneity and freshness combine figuration and abstraction to devastating effect to offer a visual counterpoint to each page of the story, at times blisteringly atonal and at others in complete harmony.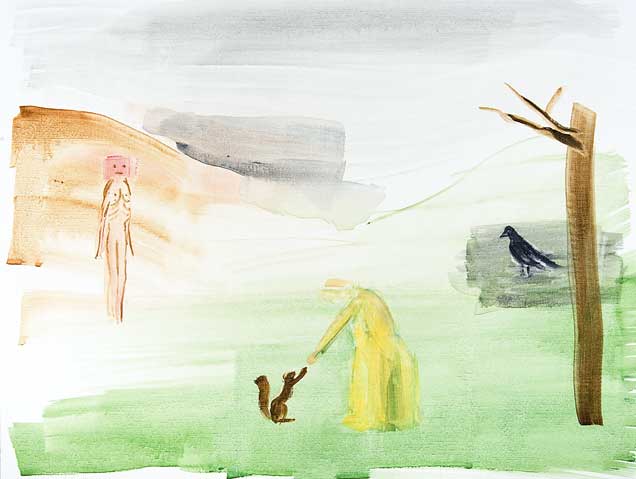 Doombad paintings by Christiane Sasportas are showing at
Aldeburgh Gallery Oct 18-28 2007 Open daily: 10.00am-5.00pm
143 High Street, Aldeburgh, Suffolk IP15 5AN
Tel: 01728 452772, 01728 454168 www.aldeburghartsgallery.co.uk
E-mail: arts@aldeburghartsgallery.co.uk
csasportas@freezone.co.uk
Books are published by I.M. Press. Contact: csasportas@freezone.co.uk
Some paintings will also be on show from earlier books.
Book details:
Some People Don't Know Who They Are
This first book of Doombad introduces the core characters in 10 oil paintings with accompanying text. Beautiful and captivating—a story of love and passion set within the old fabric of ancient rooms.
An Early History of Doombad
Moments from the hitherto unknown early life of Doombad revealed in 19 fascinating oil paintings, which together with the brutal text give voice to that distant subterranean wellspring—childhood.
Doom and Gloom
Old Stick keeps herself good and busy whilst Doombad does little to get up to no good in this vivid and lively rendition of emptiness, in 12 oil paintings with captions.
Tree-he
14 watercolour paintings introduce Tree-he, lyrical addition to the Doombad suite.
Accompanying captions describe the tragic hero. Poignant, delicate and haunting—this is Tree-he in the full glory of his tragedy.
The Art of Doombad
A brush with painterly meaning disorientates Doombad, Parrotox and Tree-he. Parrotox finds himself dismantled more than once and Doombad makes an appearance in a very unlikely form. 21 furious oil paintings with captions.
Doombad's Book of Rhymes
220 pages of beautifully illustrated rhyming stories, Doombad's Book of Rhymes sets out to explore the purpose of being, with a handful of specially honed characters who instead become entrapped by their disabling emotions. Replete with pointless misery and equally futile joys that grip their souls, the feckless crew embark on an adventure of self-discovery, to never discover the slightest thing. Flippant and serious, real and surreal, a warm insight into childhood, a glimpse of family life and a ribald comic journey where hope never ceases to triumph over truth.