Circumlocution
The Tab Centre
18-20 Hackney Road, Shoreditch
London, E2 7NS
PRESS RELEASE
Recent painting by Rebecca Cartwright, Rossen Daskalov, Massimo Franco and Jaime Valtierra
Circumlocution is an exhibition of recent painting by four painters with widely different experience for whom painting has been arrived at naturally. Undogmatic, this show is an articulation of being, of glimpsing truth, of saying this is the experience of who we are. For each of these painters, understanding and expressing complex and sometimes difficult personal experience is a driving factor in their painting practice. Recognition of mystery and an effort to maintain mental and spiritual freedom underlie the imagery in this show

Rebecca Cartwright studied painting at the Slade School of Fine Art, printmaking at Winchester School of Art and currently makes prints and paints in studios in London. Of Anglo-Argentine descent, she grew up with her grandparents in the UK, then in different households throughout her childhood. For her painting is an attemt to find clarity. She has documented her life in the form of drawings and paintings since she was nine.

Rossen Daskolov studied art in Bulgaria, completed his fine art degree at St Martin's School of Art in London and recently graduated from the Prince's Drawing School. The figure is the central focus of his ideas. Through painting he reflects on the vulnerable psyche and re-mystifies it's presence.

Massimo Franco has spent the last year painting and printmaking from drawings in an attempt to arrive at a more personal language that involves working from memory which for him is a departure from the idea of representing concrete facts in a scientific way. His "idea" is that while his drawings, paintings and prints look toward the external for their object, the internal should always be present if it wants to arrive at something beyond the formal. He is a graduate of the Prince's Drawing Studio and is currently studying printmaking at Camberwell School of Art.

Valtiera moved to London in 2002 from Madrid where he studied painting and printmaking at the Circulo de Bellas Artes. He graduated from the Prince's Drawing School in 2005. He currently paints full time in London. For him the picture must be mute. Behind his images lies unstated and changing narrative arrived at through a natural evolution of chance and determination, where light plays a primary role in illuminating worlds where dream and reality co-exist.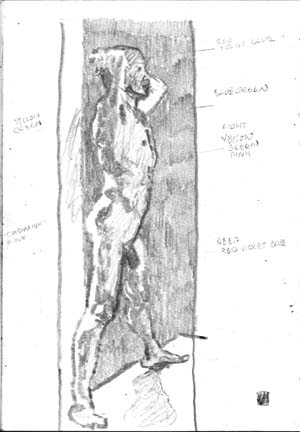 EXHIBITION DATES:† 5-7 October 2006
Private view: †Thuresday, 5 October 6-10pm
†
Please contact Rebecca Cartwright should you require further information.
rebeccacartwright@mac.com 07985451002
Galley opening hours: 5th & 6th October 8am-10pm, 7th Oct 8am -7pm
†
www.corearts.co.uk