Included below is the Press Release for Romayne Dawnay's show at Piers Feetham Gallery.

PRESS RELEASE
WORKS ON BROWN PAPER at the Piers Feetham Gallery is based on natural and architectural forms artist Romayne Dawnay observed during work and travel in the Middle East, India and America.
Born in Compton Bassett, Romayne Dawnay was educated at the Oxford School of Art and Hornsey Art School, London. Working as an archaeological draughtsman in the Middle East, her drawings appear in journals of Harvard
University, the British School at Rome and the British Institute of Persian Studies.
She has participated in numerous group exhibitions in England, Italy and America, most recently at the Woodward Gallery, NYC, and the Gallery Wright, Vermont.
The show runs October 16 – 21 at Piers Feetham Gallery, and opens with a Private Viewing October 16th. Susan Alexander-Max will give a clavichord concert October 17th at 6PM.
16 - 21 October 2006
WORKS ON BROWN PAPER
ROMAYNE DAWNAY
Piers Feetham Gallery
475 Fulham Road London SW6 1HL
Tel: +44 (0) 20 7381 3031
Images attatched:
Root 1 6 x 6 1/4

Mud Brick Castle 1 10 x 71/2

For further artist details please visit RomayneDawnay.com or email the artist at romayne@romaynedawnay.com

---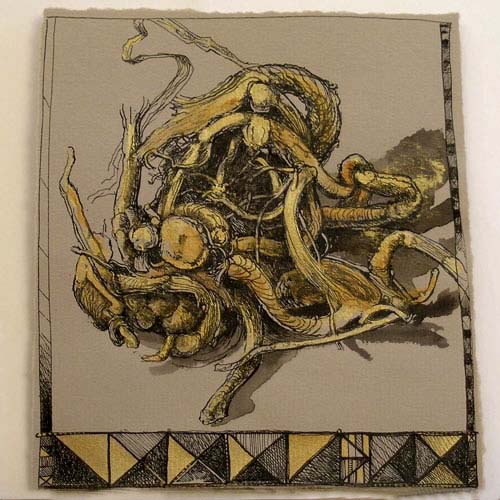 ---