Mick Corkrey
Undertow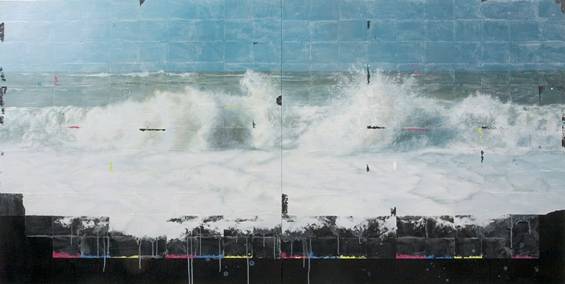 9 June – 1 July 2006
Corkrey paints seascapes, not for any particular affinity with the subject, but as a genre loaded with historic references, particularly the concept of the sublime, as portrayed by painters such as Friedrich, Constable and Turner. More recently, artists such as the contemporary photographers Stuart Klipper and Tom Millea, and the painter Gerhard Richter have had a more conceptual approach to this iconic image.
Corkrey starts to work from deliberately-scuffed photocopies of old badly-taken snapshots, destroying the picture to distance himself from the subject. The re-making through squaring up the image is a laborious process; a slow and careful charting of the original to create an almost photo-realist impression. Yet at this point he starts to reverse the process again, bringing back the original grid format through a veiled layer of wax, blocked in squares.
In this way he builds a secondary composition, through strata of geometric line, colour, and abstract pattern, references that are cinematic or photographic in origin. As paint takes hold the viewer is moved further away from the original image. Michael Auping on viewing Richter's seascapes commented that "Their surfaces seem to reject my gaze. The image of the seascape calls me forward in the way Caspar David Friedrich's monk is drawn forward to the edge of the sea—these are clearly references to Friedrich and German Romanticism—but as I get closer to the sea, to Richter's painting, the porcelain-like surface stops me. I find that interesting."
In much the same way, Corkrey constructs and deconstructs an image. Black geometric broken marks are used to efface the original seascape to eliminate the subjective content. Corkrey's paintings are therefore full of tension between depicted reality and the actuality of painting: process and material.
Auping suggests, "If I wanted to go see Friedrich, I'd go see Friedrich. But perhaps this is not the time for that kind of romanticism. This is a time of doubt, and I think Richter epitomizes a certain kind of doubt. Not doubt in a pessimistic way. It's doubt in the possibility for personal expression and in the believability of the image."
It is this believability that gives Corkrey's paintings resonance as the artist questions where the strength of his paintings lie - in the content or the process of depicting it.
Opening Hours: Mon-Fri 10-6, Sat 12-3
15-16 Brooks Mews WIK 4DS
0207 495 0069
Sarah Myerscough Fine Art
15-16 Brooks Mews
London
W1K 4DS
020 7495 0069
Mon-Fri 10-6, Sat 12-3.