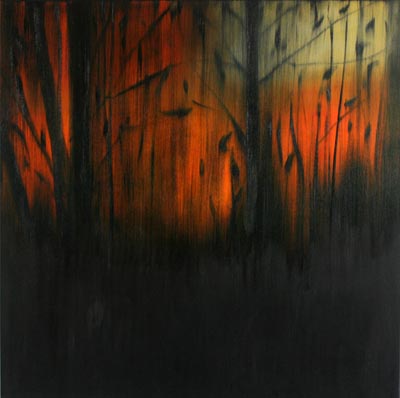 Jill George Gallery is delighted to announce Martyn Brewster's latest solo exhibition in June 2006. This show will present a selection of new paintings completed since he returned to his original studio in Dorset at the beginning of this year after a period spent living and working in London.
The new works are based on the Dorset landscape and the show will include his dramatic nocturnal series 'Winter Trees'. Pensive and mysterious, these paintings nevertheless resonate with Martyn's usual mastery of colour.
Brewster remains a dramatic – even spectacular - colourist whose works are vividly imbued with sparks of light. Often sharply contrasting sombre and bright tones, they invoke comparisons with a wide range of art historical antecedents from Turner, through Whistler's nocturnes, to Diebenkorn's Californian landscapes.
But Brewster's work remains doggedly abstract, which reveals his extraordinary ability to passionately depict nature and emotion by the simple organisation of colour in his compositions. His paintings have been described as romantic, emotional and lyrical, and his skill at painting in oils is matched by his excellence with both acrylics and in the print studio. Richly suffused with colour, his work expresses boundless joy and optimism, with an energy and dynamism in the way the paint is used that animates an often fiery turmoil within the fixed confines of the picture frame.
By constantly reinventing and rearticulating the play of darkness and light, contrasting its chromatic vibrancy, and playing with its atmospherics and opacities, Martyn Brewster has created a symbolic, painterly language with which to express his vigorous poetic imagination. His new paintings mark the latest and most exciting development in this singular practice.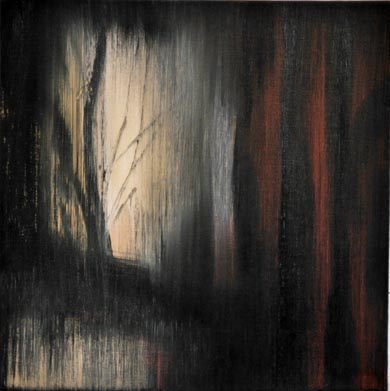 Notes for Editors
Martyn Brewster was born in

Oxford

in 1952 and studied at Hertfordshire and

Brighton

Colleges

of Art, graduating with an MA in Fine Art in 1975. He has exhibited with

Jill

George

Gallery

since 1986, and this will be his fifteenth solo exhibition at the gallery.

Brewster's work has been exhibited in

France

,

Spain

and the

USA

, and is represented in numerous public and private collections throughout the world.

The monograph 'Martyn Brewster' (Scolar Press), with text by Simon Olding, was published to accompany a travelling retrospective of the artist's work in 1997. A book on Brewster's monoprints will be released later this year.

The Private View of 'Martyn Brewster: Landscapes' will be at Jill George Gallery, Lexington Street, Soho on Tuesday 13 June from 6-8.30pm.

Jill

George

Gallery

began by exhibiting the work of recent graduates and new artists and now shows selected painting and sculpture from a roster of international artists.
If you require any further information or images please contact Jill George Gallery on 020 7439 7319 or email press@jillgeorgegallery.co.uk
Jill George Gallery is open weekdays 10am - 6pm, Saturdays 11am - 5pm, Thursdays until .