3, George V Place, Thames Ave, Windsor Berks SL4 1QP
t.01753 862503 e.info@bluetulipgallery.co.uk www.bluetulipgallery.co.uk
Press release dated 18th May 2006
We are not what we really want to be…but we are what society tell us to be…theatre of life'
Claudio Luiz De Souza Pinto.
As Robbie William's England team prepare for Soccer Aid on May 27th and the World Cup kicks off in Munich on June 9th this is destined to be the summer of football. It's estimated that as many as 80% of us will watch the spectacle. A new exhibition at the Blue Tulip Gallery in Windsor challenges us to look at football in a different way. Life becomes theatre as we are dazzled by the vibrant and challenging world of artist
Claudio Luiz De Souza Pinto.
In De Souza Pinto's spell binding images, only the soul itself plays, dances, and falls in love. The physical body is striped away as mere illusion, leaving only clothing and the masks we are willing to show to the world. Do we see beyond the colours and numbers of the football strip, the high fashion labels, to the person beyond? Do we ever really show ourselves to others or do we hide beyond our own image? Have we lost ourselves, our own souls, in the illusion of materialism? It was Eric Cantona, football's own philosopher, who said 'Brazil have the heart and soul' and it is Brazilian born De Souza Pinto who asks us whether we are brave enough to demonstrate this in our own lives.
Buddhist and Hindu traditions speak of maya, 'the creator', and 'the mask of maya', the illusion of the tangible and visible world around us. We must see through this illusion to find our true selves and happiness. Sogyal Rinpoche author of the Tibetan Book of Living and Dying and, one of the foremost interpreters of Tibetan Buddhism in the West wrote
'So many contradictory voices, dictates and feelings fight for control of our inner lives that we find ourselves scattered everywhere, in all directions, leaving no one at home.' Just as we do in De Souza Pinto's paintings…..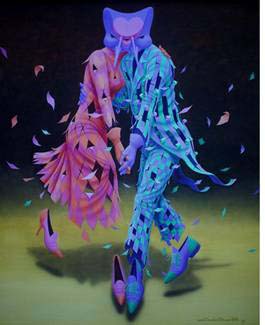 De Souza Pinto takes us on a journey of the spirit, enticing us to be free of such restrictions, and to cease conforming to the demands of society. In an increasingly materialistic age De Souza Pinto challenges us to question our view of reality, as the souls he depicts merge into infinity.
Are you ready to take off the mask of maya?
Claudio Luiz De Souza Pinto's wonderful paintings will be on display at the blue tulip gallery, thames avenue, windsor from 3rd -18th June 2006. He will be available for interview on Friday 2nd June and Saturday 3rd June. Private viewing 3rd June - Brazilian cocktails will be served.
Editors Notes
Claudio Luiz De Souza Pinto was born in Sao Paul Brazil in1954. At the age of four he began working in clay under the guidance of his uncle, the painter Bernardo Cid de Souza Pinto. He sold his own art whilst studying for a degree in industrial design at Mackenzie University in Sao Paulo. In 1990 Alan Aouizerate, the French art collector, fell in love with De Souza Pinto's work and invited him to exhibit at Le Bains and The Opera in Paris . He has since successfully exhibited internationally for many years. He lives in France and Brazil.
Contact Deborah James the blue tulip gallery limited, 3 george v place, thames avenue, Windsor sl4 1qp…
Tel 01753 862503
info@bluetuipgallery.co.uk