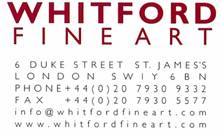 Whitford Fine Art is pleased to announce a retrospective exhibition
to commemorate the centenary of the birth of Polish born artist
C A Z I E L
(1906-1988)
* * *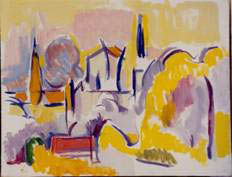 Aix-en-Provence

c. 1944

Composition

XII.1950
Following studies at Warsaw Academy of Arts, Kazimierz Józef Zielenkiewicz, Caziel (born 16 June 1906), went to Italy and then France, where after Liberation, he settled in Aix-en-Provence. In 1946 Caziel moved to Paris, where in the same year, he designed the Polish Pavilion for the UNESCO International Exhibition of Modern Art. In 1947, when sharing a studio with Picasso, Galerie Allard held a one-man exhibition, which was subsequently shown in the United States.
A monumental painting by Caziel was acquired by the Musée d'Art Moderne, Paris.
From 1948 he exhibited regularly at the Salon de Mai alongside Picasso, Leger and most of the leading Avant-Garde.
By 1965 Caziel was already known and respected painter in Paris and in 1966 he held his first exhibition at the Grabowski Gallery in London prior to his settling in England in 1969.
To commemorate the centenary of the birth of Caziel, Whitford Fine Art who has promoted Caziel's work for the last twelve years, marks this occasion with a retrospective exhibition, which will contain a selection of 30 works. It will show artistic development of Caziel with examples of his early still lifes and Cezannesque bathers, views of Aix-en-Provence with the famous Mont Sainte Victoire through to 1950s lyrical and sixties geometric abstraction.
Since the 1998 Caziel Retrospective at the National Museum in Warsaw, Caziel has been widely recognised not only in his native Poland, but also in England and the rest of Europe and America, where his work can be found in many prominent private collections.
All works are for sale with prices ranging from £2,000 to £45,000.
EXHIBITION DATES: Wednesday 14 June – 14 July 2006
Preview: Tuesday 13 June 2006
* * *
Please contact Yvonna Elphick at the gallery should you require any images or further information.
Galley opening hours: until - Monday to Friday