Press Release "Urban Interpretations"
Starting on 20th May, an exciting mix of new work will be on show at Bianco Nero Gallery. The show features work based on an urban theme and includes several up and coming young artists using a varied range of approaches to depict the modern urban environment. Durham artist Anja Percival will be showing several large scale etchings including the "Station Light" image depicted below and several interesting views through windows and doorways. Although her etchings predominantly feature urban subjects they have an almost ethereal calmness combined with subtle lighting effects.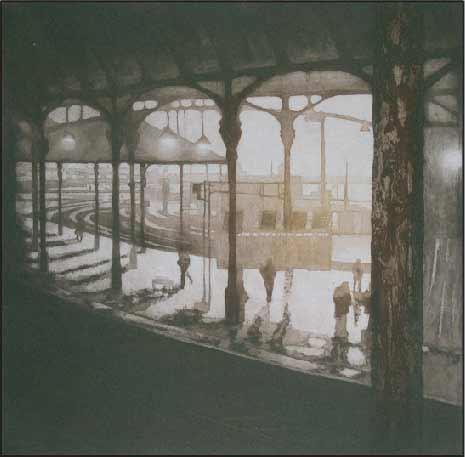 Another artist based in the north of England, Jim Butler, treats the subject very differently, producing colourful collages on site emphasising the simplified shapes and structures of the urban environment. Other work in the exhibition will include silkscreen prints by Mark Booker, photo-etchings by June Russell and oil paintings and pastels by Clare Money. The exhibition continues until 17th June.