pia fries: schwarzwild
1-28 june 2006



Private view 1st June 6-8pm

Pia Fries is part of a new generation of painters, which grapple with the possibility of abstract painting in the 21st century. Born in 1955 in Switzerland, Fries originally studied sculpture at the Ecole des Beaux Arts in Lucerne. Later she studied painting under Gerhard Richter at the Kunstakademie in Düsseldorf from 1980 – 86 and now lives and works in Düsseldorf. Fries has since shown extensively in Europe and the United States. This however will be her first solo exhibition in London.

In these new paintings, collectively entitled Schwarzwild (wild pig), Fries begins with a skeleton of imagery taken from black and white botanical illustrations by Maria Sibylla Merian (1647- 1717), details of which are screen-printed onto the hard wooden surface of the support. Working within this framework, oil paint is squeezed, brushed and moulded using a variety of application tools, some of which are more usually found in the kitchen. Although complex in their imagery and with obvious reference to the great American Abstract Expressionists these paintings have a particularly contemporary European freshness to them.

Pia Fries will be having a retrospective exhibition at the Kunstmuseum Wintherthur in 2007.

The exhibition will be accompanied by a fully illustrated catalogue with a specially commissioned text by Dave Hickey, winner of the MacArthur Foundation 2001 "Genius" award.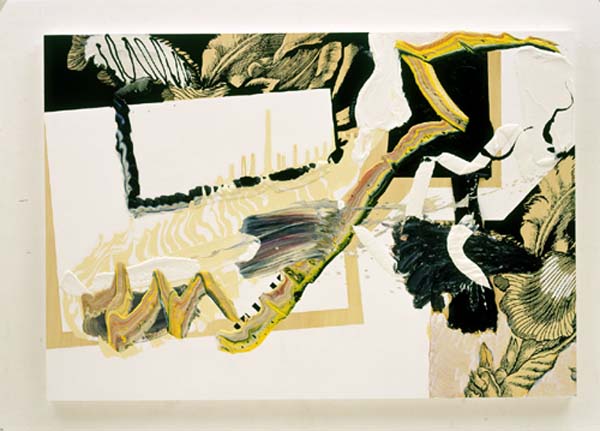 Image
Pia Fries
Tisch 1
2005
Oil and silkscreen on wood
100 x 145 cms (39 3/8 x 57 1/8 ins)

For further information and images please contact Lilly McNeill


Bernard Jacobson Gallery
6 Cork Street
London
W1S 3EE
tel ++44 (0) 20 77 34 3431
fax ++44 (0) 20 7734 3277
lilly@jacobsongallery.com
www.jacobsongallery.com

Modern and Contemporary, British and American Art.