The Sheridan Russell Gallery

PRESS RELEASE

Veronique pictured with her mixed media canvas 'Can't Handle'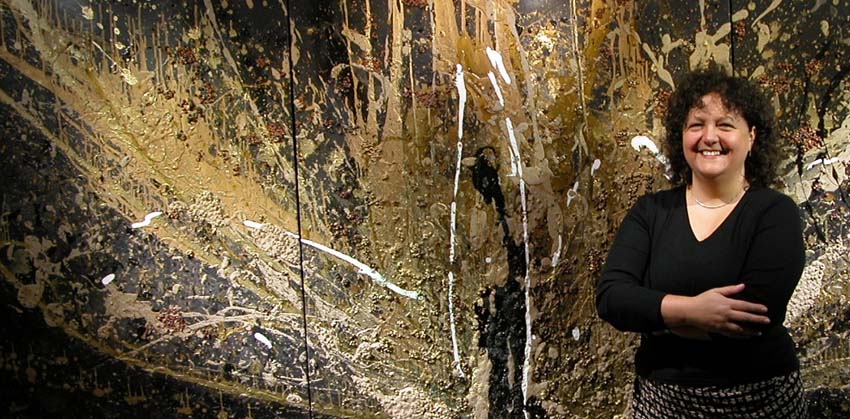 Veronique Maria
Process – Element to Spirit
25th April to 13th May 2006
Already highly regarded for her work with sculptural installations and her monumental earth and fibre work, such as 'The Mound' (a 40' earth and fibre work in Hampshire) Veronique Maria is showing work at the Sheridan Russell Gallery that extends across the disciplines of applied art, painting and sculpture.
Her unique approach to working with fired and liquid clay on canvas allows Veronique to explore the dynamic between chance and choice. She combines controlled and abandoned methods of manipulating her materials to create extraordinarily sensual and voluptuous paintings. Hugely textured, the works conjure the elemental and bodily with the astronomic and spiritual in powerful dramatic canvases.
"I am interested in how we hold and manage the tension of being mortal and particularly, what is in us that determines our will.
It seems to me that with every breath and within each moment, we make both conscious and unconscious choices in response to our Will. So I have been exploring this idea by using two techniques. A repetitive method of forming small clay spheres which I associate with control and wilful direction and a random method of dripping and throwing liquid clay, which I associate with surrender and chance.
I am looking to express the fine line between dualities; life and death, dark and light, yes and no."
Veronique Maria has formal training in Art and Design, BA (Hon's) in wood, metal, ceramics and plastics and Psychology, MA in Applied Psychosynthesis
Veronique's recent short film 'Process', which illustrates and explains her working processes, will be on view for the first time at this exhibition.
16 Crawford Street London W1H 1BS
Tel/fax 020 7935 0250 Email info@sheridanrussellgallery.com
Sheridan Russell Gallery Limited Company Reg. No. 5356748