CHRISTINA NIEDERBERGER
'Beautiful Paintings'
4 APRIL – 12 MAY 2006
Jill George Gallery is delighted to announce the second solo exhibition by Christina Niederberger, who has been showing at the gallery since 2003. This exhibition will present a selection of new works which continue her fascination with the limits of the two-dimensional picture surface.
Christina Niederberger's is a singular practice which, although stylistically quite diverse, shares a conceptual unity in its investigation into the nature of perceptive reality. So whether she is painting semi-abstract discs or roses, or chandeliers in varnish and powdered glass, or even cutting cartoon animals into fur, the work is primarily concerned with the limits of the flat picture surface and its two-dimensional reality.
Paintings like Grauzone and Landscape after Corot are composed of multicoloured discs and seem to hover between abstraction and figuration. But using the simple device of these discs uncovers a field of narrative possibilities as the artist sets up a dialogue that invokes depth and emotion, moving from elegant sparseness to kitsch overkill. Initial allusions to abstract painting fade as the viewer realises how each canvas is loaded with academic art historical references.
The Chandelier series again explore abstraction and figuration, with the added tension of beauty versus vulgarity. Delicately painted, each chandelier appears to hover on the canvas, emerging as the light hits the powdered glass in the paint. Forcing the viewer to adopt a suitable vantage point, these paintings dissolve the chandelier into its surroundings, conflating the foreground and background on the picture plane. The latest of the series, painted in varnish on clear perspex, achieve a further dissolution as the depicted image is activated by light, appearing as shadow on the wall behind. Chandelier and painting, both elite commodities, are effectively rendered immaterial.
With her fur 'paintings', Christina Niederberger creates objects that invoke a world of innocence, fantasy and comfort. But just as Mike Kelley imbues cuddly toys with an air of menace, so her apparently innocent cartoon cats, deer and monkeys hint at underlying disquiet. Cut and combed into fake fur, they appear as soft reliefs that encourage touch, but their manufacture exposes their fragility: they could almost be brushed out.
Chinese Dancing after Brice Marden is the artist's response to abstraction and its refutation of narrative content. Lifted directly from Marden's work, Niederberger subverts the language of modernism by giving the composition a depth the original did not possess. The abstract flatness is further thwarted by the yellow and red roses which blossom like a tumour of healthy kitsch on the rigorous purity of abstract expressionism. Once again the artist casts the picture plane as a site of homage to the power of narrative fantasy.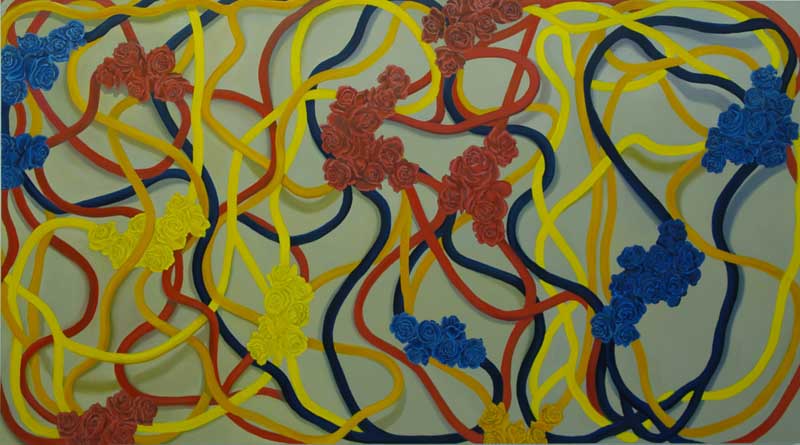 Notes for Editors
Christina Niederberger was born in

Bern

,

Switzerland

in 1961 and moved to

London

in 1992. She obtained a BA (Hons) in Fine Art from Byam Shaw School of Art in 1997 and an MA from Goldsmiths in 2002. She is currently working towards a Doctorate at Goldsmiths.

Her solo exhibitions in

London

include

Jill

George

Gallery

and 'Domestic Bliss', Kingsgate Gallery (both 2003), 'Show 1', Hat on Wall, Clerkenwell (2001) and 'Four Pillars and a Lecture Hall', Swiss Embassy (1999). Solo Swiss exhibitions include Kabinett,

Bern

(2000,3,5) and Galerie Silvia Steiner, Biel-Bienne (2004). Her next solo show will be at Galerie Silvia Steiner in May 2006.

Group shows in London include Sadlers Wells (2001), Jill George Gallery (2003-6), Art London (2003-5), 'Godzilla' (Goldsmiths graduates – 2003), 'Cinderella' (Goldsmiths graduates – 2004) and the London Art Fair (2004-6). Also in the USA at Art Chicago (2003-6) and the San Francisco International Art Exposition (2003); in Canada at the Toronto International Art Fair (2003); in Switzerland at the Kunstmuseum Thun (1994), Kunstmuseum Bern (1994-5), Kunsthaus Langenthal (1997) and Kunsthalle Bern (1999-2000); and in Germany in 'Unpainted' at Villa Grisebach Gallery, Berlin (2004).

Christina Niederberger's work is in the collections of

Goldsmiths

University

, the British Government Art Collection and

Inselspital Bern

,

Switzerland

.

The Private View of 'Beautiful Paintings' will be at Jill George Gallery, Lexington Street, Soho on Monday 3 April from 6-8.30pm.

Jill

George

Gallery

began by exhibiting the work of recent graduates and new artists and now shows selected painting and sculpture from a roster of international artists.
If you require any further information or images please contact Jill George Gallery on 020 7439 7319 or email press@jillgeorgegallery.co.uk
Jill George Gallery is open weekdays 10am – 6pm, Saturdays 11am – 5pm, Thursdays until .
www.jillgeorgegallery.co.uk