works by
SCOTT POHLSCHMIDT
to view, to buy, to commission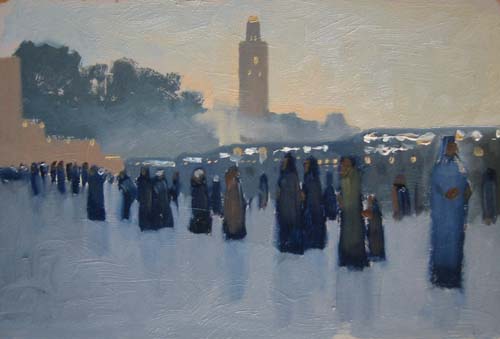 17-30 March, 2006
Leighton House Museum, Holland Park Road W14



The uniqueness of Scott Pohlschmidt's work lies in his great versatility and dedication to the craft of painting. The same approach is evident in all his work - from portraits and sculpture to intimate landscapes and beautifully balanced still-lifes.

From 17th March the public have an opportunity to view, buy or commission works by this young artist who is one of only a very few figurative artists working in London today in the naturalistic tradition. Over fifty of his finest and most recent pieces will be displayed in the beautiful surroundings of Leighton House Museum built from 1864 as the private residence of the eminent Victorian artist and President of the Royal Academy, Frederic, Lord Leighton.

Landscapes, still-lifes, sculptures and other works for sale will be shown, together with formal oil and bronze portraits, lent by the sitters. A video demonstrating Scott's working process will be running and he will be working within the gallery at intervals during the exhibition.

Scott has also co-founded "The Lavender Hill Studios", the first atelier in London teaching representational art in traditional 19th century techniques. The response to the school has been remarkable, as there seems to be a thirst for this artistic language, which has almost been lost in the British establishment schools of today.

Come and see Scott Pohlschmidt's work and learn how he was launched from Chicago to Italy via the Dean's Art Scholarship at DePaul University in 1996, and became a teacher of representational art in Florence for nearly ten years.

Leighton House Museum is located just off Kensington High Street in the Royal Borough of Kensington & Chelsea at number 12 Holland Park Rd, London W14 8LZ



Opening times: open daily except Tues.11am - 5.30pm
Admission £3.00, Concession £1.