SUMMER EXHIBITION 2006

CHARLOTTE MAYER, FRBS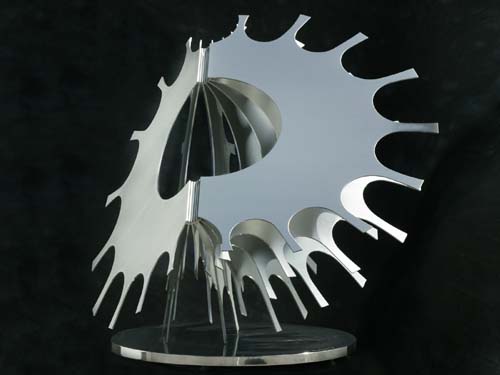 Kasta (stainless steel)

The Garden Gallery's Summer Exhibition this year will focus on the work of Charlotte Mayer, FRBS, including a very special new sculpture, Thornflower. Natural forms such as seedpods, leaves, shells and ammonites are Charlotte Mayer's inspiration, resulting in poised, serene sculptures cast in bronze or fabricated in steel, in perfect harmony with trees, plants, water and the play of light. "I believe that a sculpture should speak for itself. It should need no verbal description."

The Summer Exhibition will also feature new work by regular gallery artists and runs from Saturday 13 May (Private View 11 -5) until 22 July, on Saturdays, Tuesdays and Thursdays from 11 – 5. The Garden Gallery is open by arrangement at all other times. For further information and photographs contact Rachel Bebb at The Garden Gallery.