During the year 2006 The King of Hearts Gallery will show works by three prestigious artists featuring in the Gotto Collection, starting in January with Evelyn Williams, whose striking painted relief Crowd Waiting has been one of the foremost favourites in the Collection, as attested by the Visitor's book.
Evelyn Williams is an artist of national caliber, whose very original work has been described by critics as "outstanding...too little known ". She has had important admirers, such as Faye Weldon, the late Sir Hugh Casson, Paula Rego; a film taken from her book Work and Words was produced for television by David Thompson, with the actress Helen Mirren. She has shown in prominent UK Galleries, (Whitechapel, Graves Art Gallery Sheffield, Arts Council Belfast, Manchester City Art Gallery and Chapter Centre in Cardiff, where a new show is planned later in 2006). Of her exhibition at Agnews, Bond Street, in 2003, John McEwen wrote: " to enter [this exhibition] is to enter a world of dreams – sometimes tranquil, sometimes disturbing, but never hideous." About the Manchester Show, The Guardian said "Evelyn Williams creates an almost religious reverence for the vulnerability of existence". Almost all of Evelyn's work is concerned with people and the human predicament. In a 40-year career which began with a bang by winning the John Moores Prize for sculpture in 1961, her large and very personal paintings and reliefs have followed her progress through life as child, lover, mother and grandmother. There is sadness and anguish, but also compassion, and the light of tenderness and genuine encounter shines through her latest work. Viewers are often surprised to learn that she is in her 70s, as the work is so startlingly modern. All the concerns of contemporary young artists, identity, mortality, relationship, alienation, are addressed in a completely original way. But although Evelyn's work is challenging by its sheer size and power, her anguish never becomes aggressive; compassion, self-questioning and detached observation are her response to life and pain.
Exhibition starts on 11 January and lasts until 15 April. Mon-Sat 10am-4pm.
Entrance Free.

The King of Hearts,

Fye

Bridge Street,

Norwich

 

01603-766129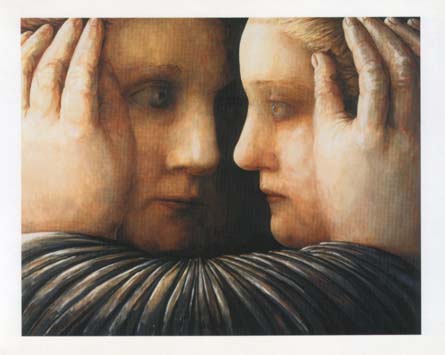 www.kingofhearts.org.uk