PRESS RELEASE
Exhibition: 'The Language of Paint' by Teresa Narduzzo
23 - 29 November 2005
Candid Galleries, 3 Torrens Street, Islington, London EC1V 1NQ
Admission Free
Tel: 07791 217918
Opening Times: Weekdays 12-7 / Sat & Sun 12-5
Private View: Tuesday 22 November 6-9pm
<! - img src="Letting.jpg" width="444" height="296" alt="">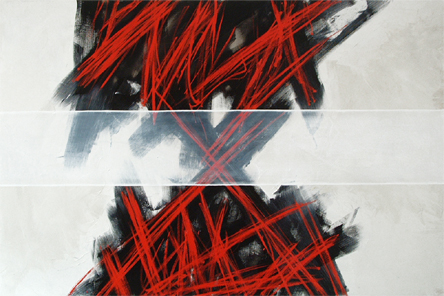 Teresa Narduzzo Letting the Animal Out 2005 48" X 72" Oil on Canvas
'The Language of Paint' is a solo show of paintings and poetry by London artist Teresa Narduzzo, to be held at the Candid Galleries, Islington, in November. This artist makes powerful abstract oil paintings, some of which are very large and this immense, gritty, industrial space, tucked behind the Angel tube is an ideal setting in which to experience such work.
The paintings on display reveal the artist's early influences of the American Abstract Expressionists of the 50's, whilst at the same time communicating her own contemporary language of mark making. These pieces are commanding, often energetic, sometimes challenging, full of a dynamism that is expressed in vibrant colour or in the contained use of black and white. Intent is depicted with the use of bold brush strokes and heavily painted palette-knifed surfaces which are at times scraped back to show the raw history of a piece. Delicate grounds are also used together with fluid linear marks, which hint at a hidden language. Within each piece, the artist has created a certain tension; whether the painting is made up of energetic free-flowing large brush strokes or gentle grounds and quiet exclamations, this tension underlies and binds each piece and compels its audience.
Alongside the paintings, the artist will also be exhibiting her poetry; these written pieces are down-to-earth, feeling, thought provoking and at times humorous. As well as giving an insight into the approach to the paintings the poems also stand in their own right: This is an unusual and engaging way in which to read such writing.
Teresa Narduzzo has been painting in London since she completed her MA in Fine Art Painting at Chelsea School of Art in the late 80's where she was also awarded the Boise Scholarship. Her work subsequently gained a large following amongst the corporate world in London and can be found in corporate and private collections in the UK and across Europe.
As an independent artist, Teresa Narduzzo seeks to exhibit her work in unusual spaces, often outside the gallery context and has, in the past, shown in architects' offices in London, with Furniture Designers in Hanover and in the BurgtorHaus in Lubeck, Germany; an ancient towered entrance to the city. The Candid Galleries is another exciting, dynamic venue in which to view this artists work.
This will be an inclusive, exhilarating show, not to be missed.
'The Language of Paint' by Teresa Narduzzo; 23 - 29 November at the Candid Galleries, 3 Torrens Street (Off City Road), Islington, EC1V 1NQ. Opening Hours 12 - 7pm Weekdays, 12 - 5pm Saturday and Sunday. For more information visit www.teresanarduzzo.com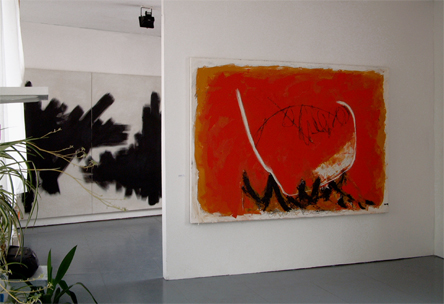 The Reason For It All 2005 (left) Oil on Canvas 84" x 120" (diptych)
Waking Wishes 2005 (right) Oil on Canvas 60" x 84"